The Central Iowa Shelter & Services Food Pantry is supported by DMARC. Individuals can access the food pantry once per calendar month and receive a 3-day food supply for each member of their family.
Please call ahead to confirm hours before coming to the Food Pantry.  The front desk number is (515) 284-5719.
Monday:  11:00am – 1:30pm
Tuesday:  12:00pm – 1:30pm, 3:00pm – 5:00pm  
Wednesday:  11:00am – 1:30pm, 2:30pm – 5:30pm
Thursday:  9:00am – 1:30pm, 2:30pm – 7:00pm
Friday:  1:00pm – 3:00pm
Saturday:  Closed
Sunday: Closed
The Central Iowa Shelter & Services Clothing Closet hours: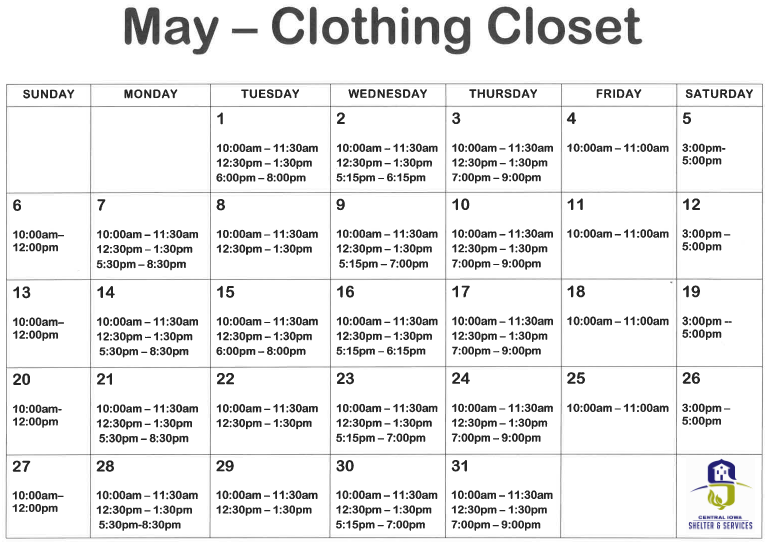 The closet has clothes for adult men and women of all sizes as well as warmer clothing and winter accessories during cold weather. The clothing closet is open to anyone in the community in need of clothes. 
You can support the clothing closet by donating clothes, hats, gloves, coats, socks, underwear, etc. as well as by volunteering to keep the closet open and serving those in need. Donations of food and paper products as well as fresh produce, are welcome at any time for the food pantry.
For more information you can contact Elizabeth Boyer, the Volunteer & Community Outreach Coordinator at (515) 564-5752 or eboyer@centraliowashelter.org.