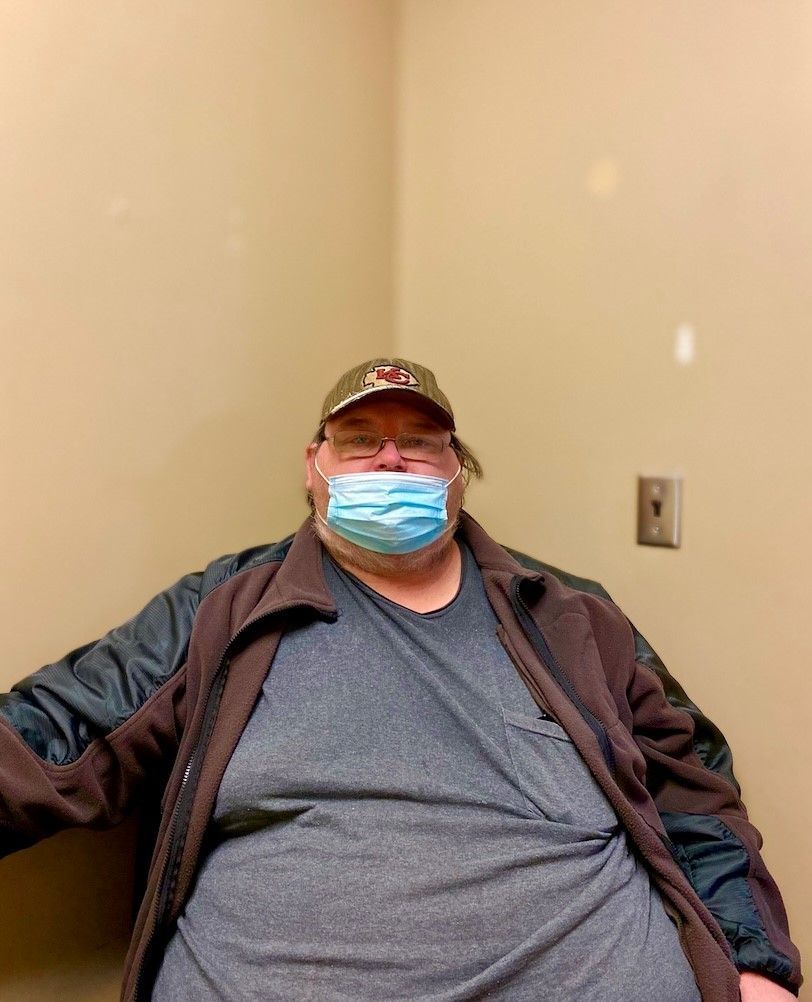 Meet Lee
Lee is from Stuart, IA and spent almost his entire life there from junior high. After a year of college, Lee started work at a credit company before they went out of business, then on as an HR support to small businesses. After that, he worked at Wells Fargo for many years before acquiring his most recent job as a bio security officer at Rose Acre Farms.
After working in so many positions, his favorite one of all was raising his now 18 year old daughter. Lee raised her solely the past 8 years after complications with his ex-wife. His pride and joy is his daughter, whom he loves dearly.
While working at the farms, his health began to deteriorate and he could no longer work. He and his daughter were living in his father's house, until after a year and a half, he could no longer keep up with taking care of it and his father sold it. Lee found himself at the shelter, but his hope never faltered.
"When that happened, I asked God to grant me humility and humble me. And he put me here at the shelter. He put a roof over my head and fed me every day" -Lee
Lee is proud to say he is 15 days away from finishing the Bible, and is an avid believer who hopes to lead bible studies in assisted living communities after his time at CISS. Now, Lee is excitedly waiting for his move in date, as he is in the approval process for housing.
"The staff has been truly amazing. It's nice to be somewhere that people genuinely cared about helping. This is a really nice place to be."- Lee
-The Other Side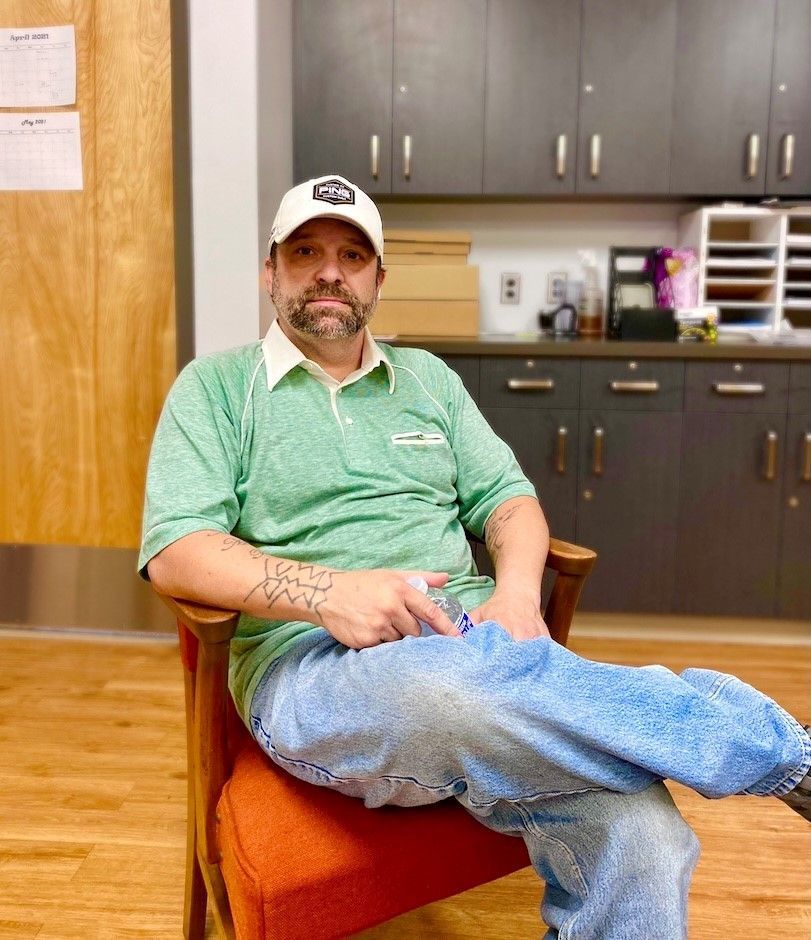 Meet Coby
Coby is from Colorado Springs and came to Des Moines in June 2020. He obtained his GED and has lots of work experience in janitorial, mechanical drafting, construction, etc. Out of all the jobs he's had, his favorite is painting. In fact, he loves painting so much that he can cut into just about any angle of a wall free handed! Coby came out of Iowa DOC for a few charges and then went through Bethel Mission's Door of Faith program, he got a job at Menards. After working there for a while, he struggled to pay his high cost of rent and a supervisor of his suggested going to CISS for any housing help he may need. He followed her advice and came to CISS, where he began utilizing the shelter's resources immediately. He is now employed in the janitorial program and is currently in OSHA training, "This shelter is so different from any other one I've seen. There are so many resources, and I keep telling my family how amazing it really is".
In his free time, Coby loves to paint/draw, listen to music and has even found a love for bull riding in the past. Now, he is focused on completing the janitorial program and finding housing, as well as a full-time job. To Coby, success means being proud of himself and being happy with what he's accomplished. "It makes me feel free"- Coby
-The Other Side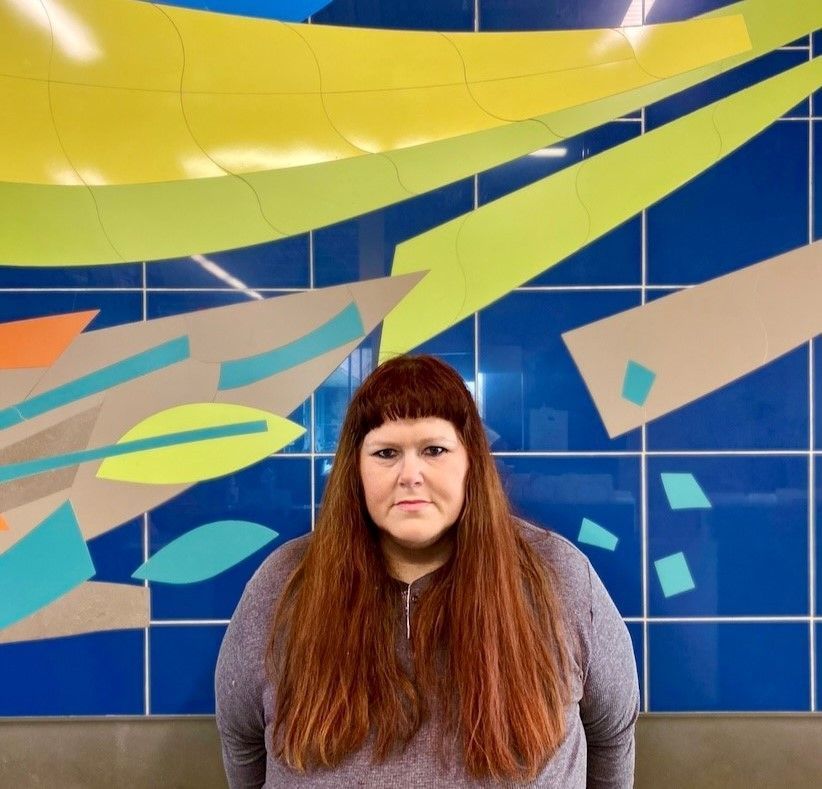 Meet Tracie
Tracie grew up in Mt. Pleasant and only recently came to Des Moines when she became displaced. Growing up, she loved helping others and in fact, found a passion for doing it through secretarial work. As a senior in high school, she landed her first secretary job at city hall in the recreation department. She loved filing, directing others and creating newsletters. After high school, she went to Southeastern community college for secretarial and office experience. While she was there, she was trained how to file many types of forms and loves doing it. Tracie then went on to work as a secretary in the safety department for the Army, making sure documents were thoroughly checked and helping people who worked there get the assistance they needed. Recently, she had been living with a family in Hillsboro until they moved away. She chose to come to Des Moines because her daughter and grandchildren live in Ankeny. After coming to the shelter, she began to work her way to self-sufficiency in finding housing and even working through our Rolling Hills Coalition program to find an apartment in Lee County. If you were to come into shelter, you would find Tracie sitting down with someone to help file a food stamp form, or maybe a housing application. She's known for helping our residents when they need to fill out important documents to access their resources. In her free time, Tracie loves to play casino computer games and visiting her grandkids. When she moves to her new apartment, she's looking forward to finding places she can volunteer at and help others. To Tracie, success means using your time to help others and help them strive for their goals and achieve what they want in life.
-The Other Side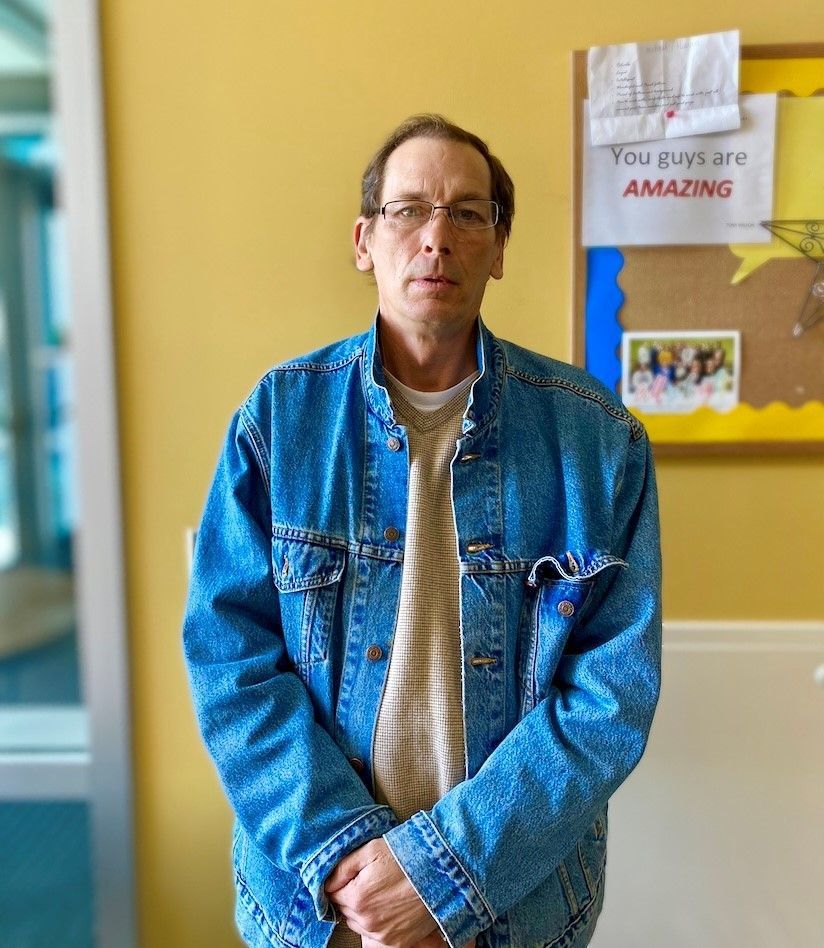 Meet Tim
When he was a child, Tim was injured and suffered from this injury through his education and work. He was unable to finish high school after trying many times. Tim then decided to get into construction work, finding a love for his profession. He could go for a drive all around Des Moines and point out which houses, hotels, Walmarts and buildings he helped build. He played a significant role in the Des Moines community in growing its infrastructure. At 28-years-old, Tim got into a fatal car crash, killing everyone in the vehicle except himself. Since then, he soothed his trauma with alcohol and drugs use. He was living with his family but after a few years, his parents had had enough and kicked him out. Tim went on to be homeless for 30 years, switching from one shelter to the next as he battled his substance abuse.
Two years ago, Tim entered Bethel's shelter and sobering program…graduating successfully and having been clean ever since. While he was at Bethel, he worked with one of our case managers here, Dee, to get his housing paperwork completed approved before getting his own apartment on the 2nd floor of CISS. Tim was ecstatic and so joyful that he had his own place to himself. He was working part-time but had to quit as he is experiencing problems walking. While waiting for his apartment approval, he was grateful that our employees, Dee and Liz, hung onto his fishing gear and important books for him until he moved in. Tim loves to go fishing along the river and in fact, caught a turtle or two just this past week on accident! To him, success means you've got something done in your life that's never happened to you before. He also said, without Jesus, there is no way he would ever be here now.
-The Other Side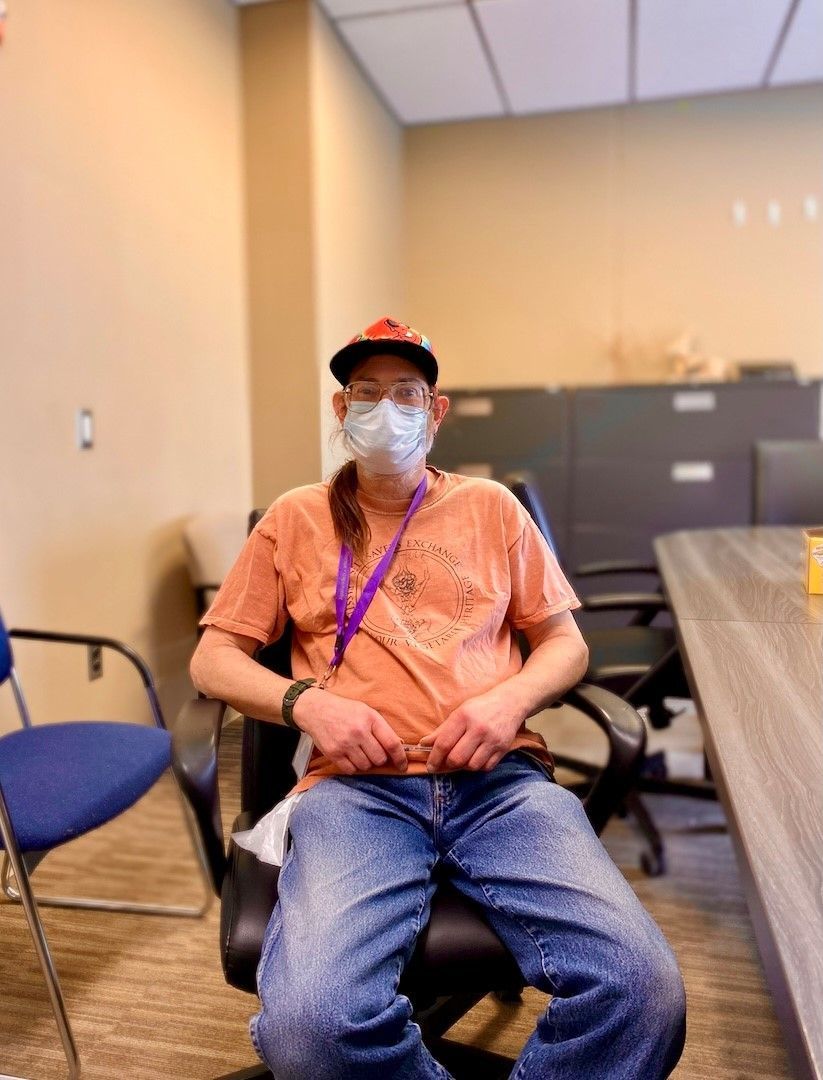 Meet Eric
Eric came from Granger, IA…where Jester Park was his stomping grounds and only minutes away from his family home. After graduating high school, he got married and moved to Des Moines, having lived here ever since. He obtained an Associates degree in electronics and computers, going on to work for the company Intoxalock. He enjoyed his work there, getting to be a part of multiple departments and doing many things. He also worked as a driver for Schwan's and in customer service positions at gas stations and restaurants. As Eric's years went by and many things happened, he eventually found himself in need of assistance when he was unable to afford a place on his own when he needed to pay child support. He stayed with his parents a couple times but found it difficult to do so when he didn't have a license or a car to go out and find more job opportunities. He also didn't want to be a hinderance to them. So, he found himself at CISS 2 weeks ago, where only days after moving in did he get onboarded into the job training program in janitorial. Eric is proud to say his child support is paid off and he's excited to start saving up money for his own place. In his free time, Eric loves to collect rocks and has many fossils he's found just by chance. When asked if he could go anywhere in the world, he was quick to answer with 'Scotland'. He loves the castles there, in both the history and architecture, and how they planned the secret passages and doors.
-The Other Side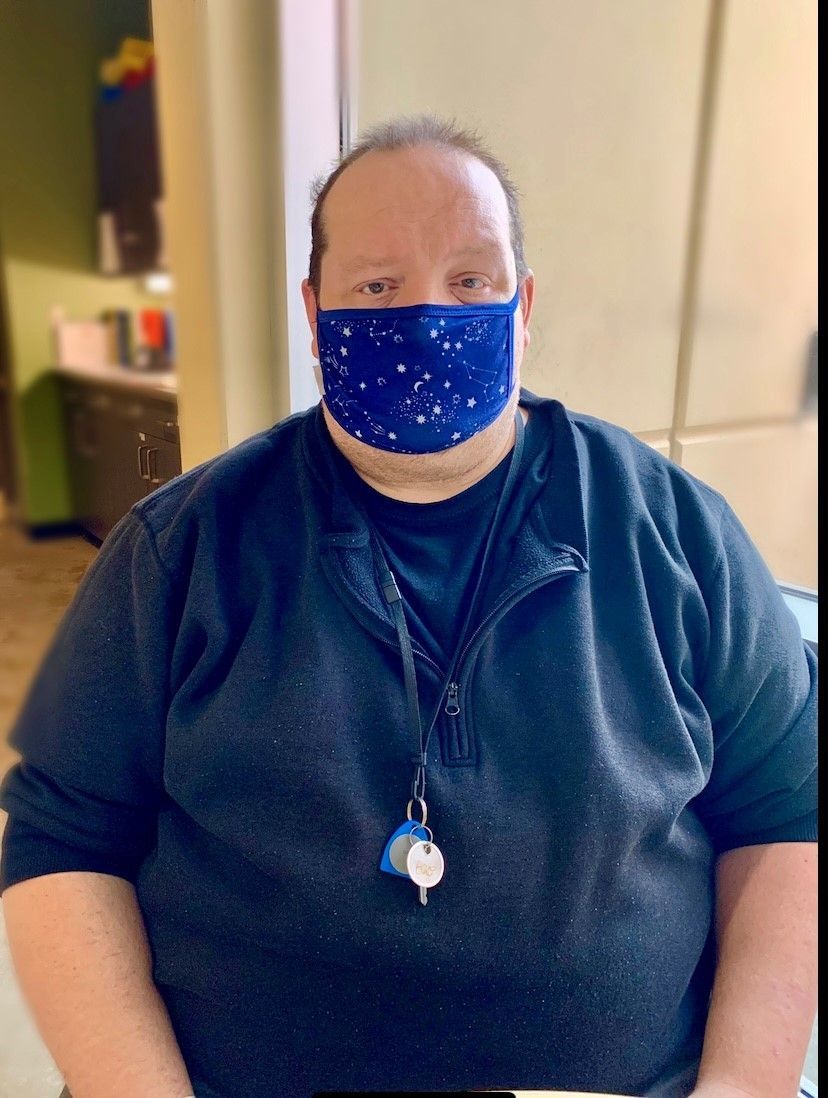 Meet Jason
Jason was born in Omaha, Nebraska. Adopted into a preacher's family, he moved from church to church across the country growing up. Jason decided to stay in California as his family traveled on, and this being where he met his wife. They then moved to Mississippi and in 2015, Jason lost his wife. Coping with her passing and his depression, Jason started to drink heavily. He was then diagnosed with atrial fibrillation (AFib).
Jason found himself homeless, no job, and decided to move in with some 'friends' in Oregon during the beginning of the pandemic. Shortly after, he was kicked out and lost what money he did have. Jason came to Des Moines in July after learning his father had COVID-19 and has been here at CISS since. He moved into the apartments in November and enjoys being so close to his job.
Jason works in the kitchen as the lead overnight cook and has recently been ServSafe certified. His favorite meal to cook is meatloaf with mashed potatoes and green beans. He had a heart attack in early February and appreciates the shelter accommodating him as he returns to the kitchen and helping cater out meals to affiliated organizations.
He is grateful for the services provided at CISS, especially those with housing setup, helping clients get their identification cards and paperwork, and the job training program.
When it seemed as if everything in life was going against him, Jason has stayed positive the whole time… "Life's going to throw you whatever, but it's how you deal with it."
-The Other Side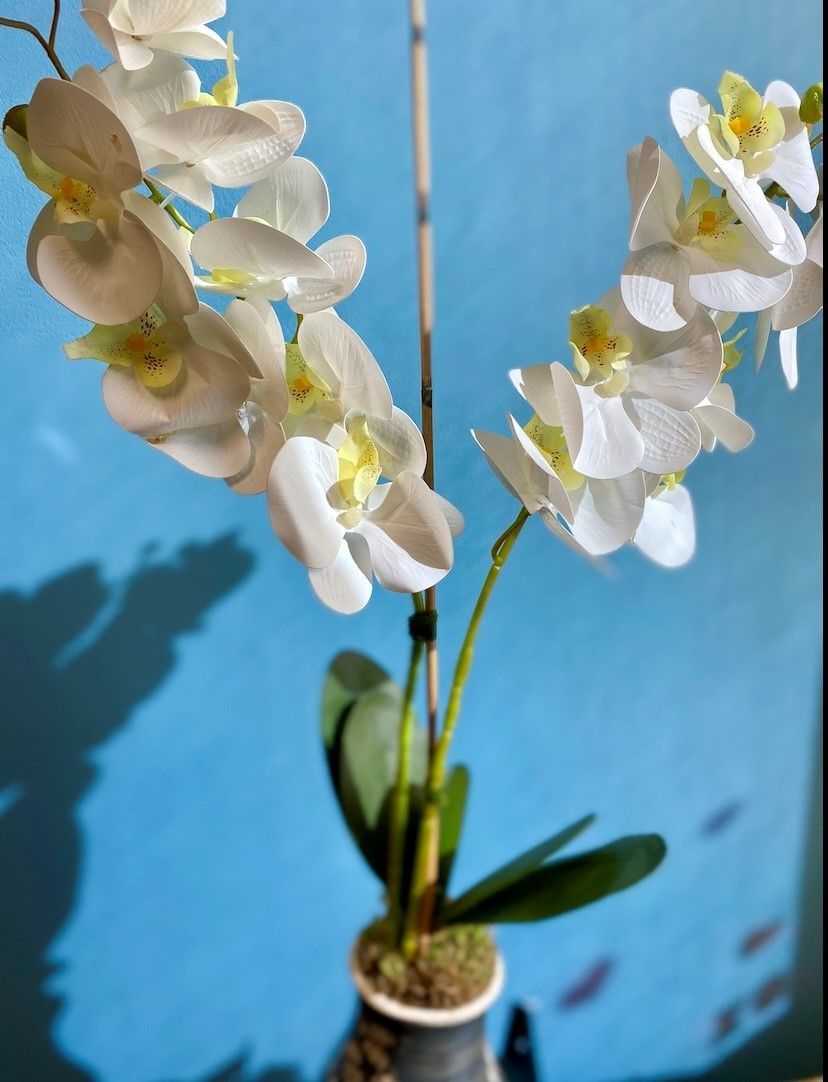 Meet Christina
Christina came to the Shelter with her son Christopher and now ex-boyfriend. They came from South Carolina with the promise that he would find a job and a place for themselves. As soon as they got to CISS, he began to see other people and would take their belongings and give them to the people he was seeing. After multiple instances where he would manipulate them, Christina decided that she had enough. She tried to reach out to her parents, but they did not receive any support. In her words, "I didn't let that stop me." She continued to fight for a way out of the shelter and getting herself and her son out of the Shelter, back to the life they had. After staying at CISS for over 2 weeks, she's worked with case managers to apply for food stamps and get started on finding housing. Now, she has secured a job and will be moving into new independent housing with Christopher. Her son is also autistic, so Christina is hopeful that she will find him the support he needs and new medication. Her end goal is to get a place they can call home together after having been through so much.
-The Other Side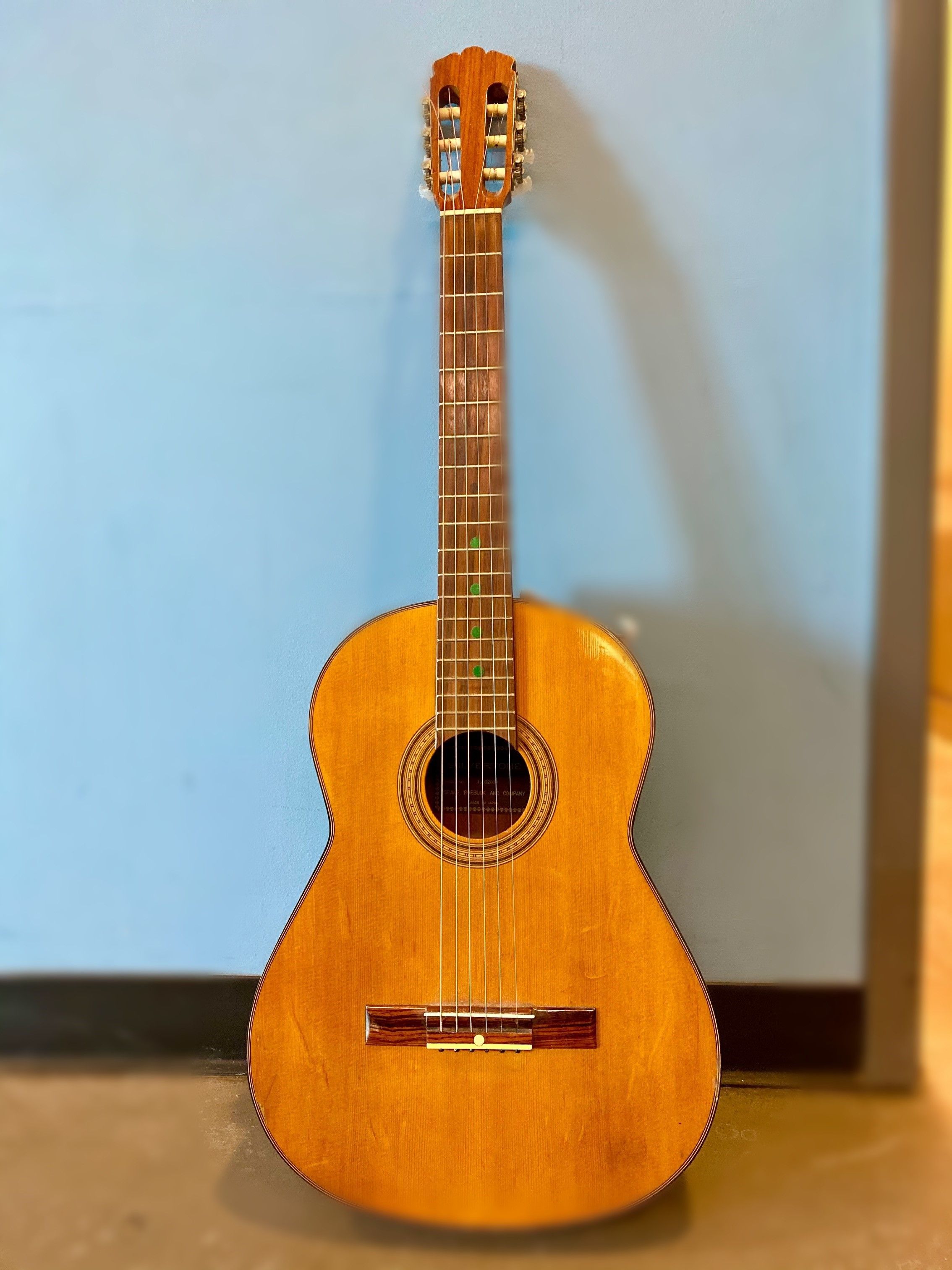 Anonymous
People are always coming and going through our front doors at CISS. Young, old, sick, healthy…there is not one appearance that defines homelessness. At first glance, this resident caught my eye and she truly reinforced this fact.
"I'm 18 years old and I'm from San Diego, California. My mom passed away when we were living in San Diego and then my dad and I moved to Des Moines because he met someone in the area. This year I'm a senior in high school and finished all my required courses. I've worked many different places like Gusto Pizza, Jimmy's Egg and Hy-Vee while I was in high school. I just got to the shelter yesterday after a falling out with my parents and they kicked me out. We argue and yesterday was the last time. Since being here, everyone's been really nice...both the staff and some of the residents. What's next for me? I'm trying to find a job right now and hopefully after my stay here I can get my own place. I want to go to DMAAC to take my gen-eds and then go on to Iowa State to get a degree in Accounting.
If I could go anywhere in the world, it would be either the Lutheran Church of Hope or my old family home back in California. I've been attending Lutheran Church of Hope for 8 years now and I was a part of their youth group, attend weekend services and I sang on the worship team. I love to sing, it's my favorite thing to do. To me, success is having the basic needs you need to have, to accomplish your big picture goals."
-Anonymous, The Other Side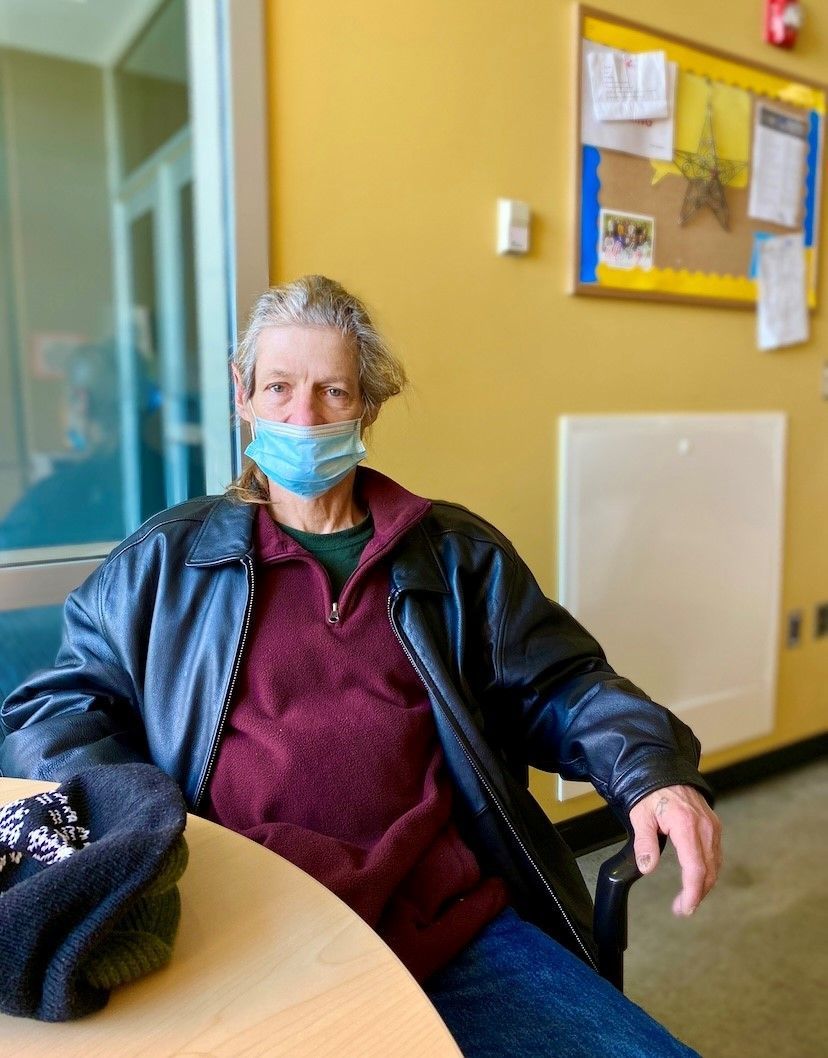 Meet James
James is from Cedar Rapids, IA. There is where he met his best friend, Danny. The two of them were inseparable and no matter where they were, they always managed to stay in touch. Whenever they hung out, it was like picking up where they left off. A few years ago, when James was living in Florida, he got a call from Danny that he was dying of cancer. James dropped everything, leaving his housing and job behind to book a one-way ticket back to Iowa to see him. Only two days after he came to Iowa, Danny passed away. James said he didn't regret a thing, being able to see Danny smile one last time was worth it. Afterwards, James began living with Danny's brother. After an altercation involving his brother's drinking, James had a couple broken ribs and a hurt back. Since then, James hasn't been able to work and had no where to go after he left. His family still lives in Cedar Rapids, but to not be a burden, he was determined to do whatever he could to get his life back together on his own. James came to CISS knowing he had a lot of work to do in facing his substance addictions, gathering the right documentation and working out problems from the past. After a few months of being able to persevere through rejections, therapy/counseling and setbacks, James finally got the call Thursday morning that he was approved for housing.
In his free time, James loves to read his Bible and calls himself a "food nut", always wanting to try new restaurants. He also likes to go to the movies and watch plays when he's able.
-The Other Side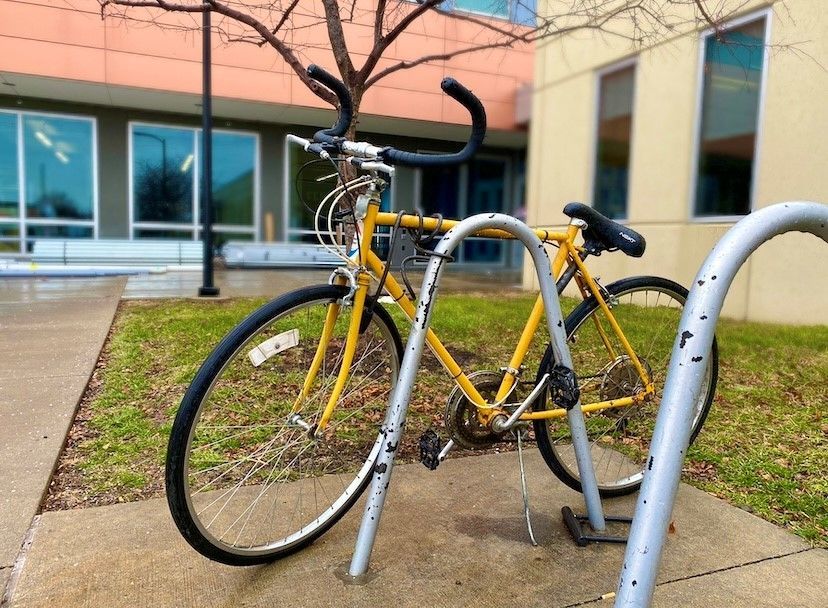 Anonymous
I always lived in Iowa. I spent much of my childhood moving around with my mom, 2 sisters and 6 brothers. We mostly lived around the Des Moines area, so I'm familiar with everything around here. I went to school through 9th grade and was a part of the LD (learning disability) program. My neighbor would help me with my schoolwork and realized I was more cut out for work than school. I started helping with flooring, but after 5 surgeries for hernias, I decided to try DMACC for truck driving. I got my license and loved driving semis. I love the feeling of being able to park, maneuver and drive something that big, knowing that my job was important, and people were counting on me. For the past 30 years, I struggled with my meth addiction, so that battle put me out of work. After seeing an acquaintance of mine almost overdose and die from heroine, I knew it was time for me to work on stopping. Back in June, I got hit by a car and it left me with injuries that took me up until December to recover from. I lost my housing and my work. As soon as I was ready to get back to work, I fell off my bike on 2AM Christmas morning, breaking my hip. I spent a couple weeks in the hospital and came to CISS after getting out recently because I have nowhere else to go. Now, I'm working with case workers to find me housing and I'm meeting with Hannah to review my resume and get me back into the workforce. I also used the clothing closet to find some new clothes…you don't know how amazing it feels to finally have clean clothes. In my free time I love riding bikes and watching movies that make me feel something.
-The Other Side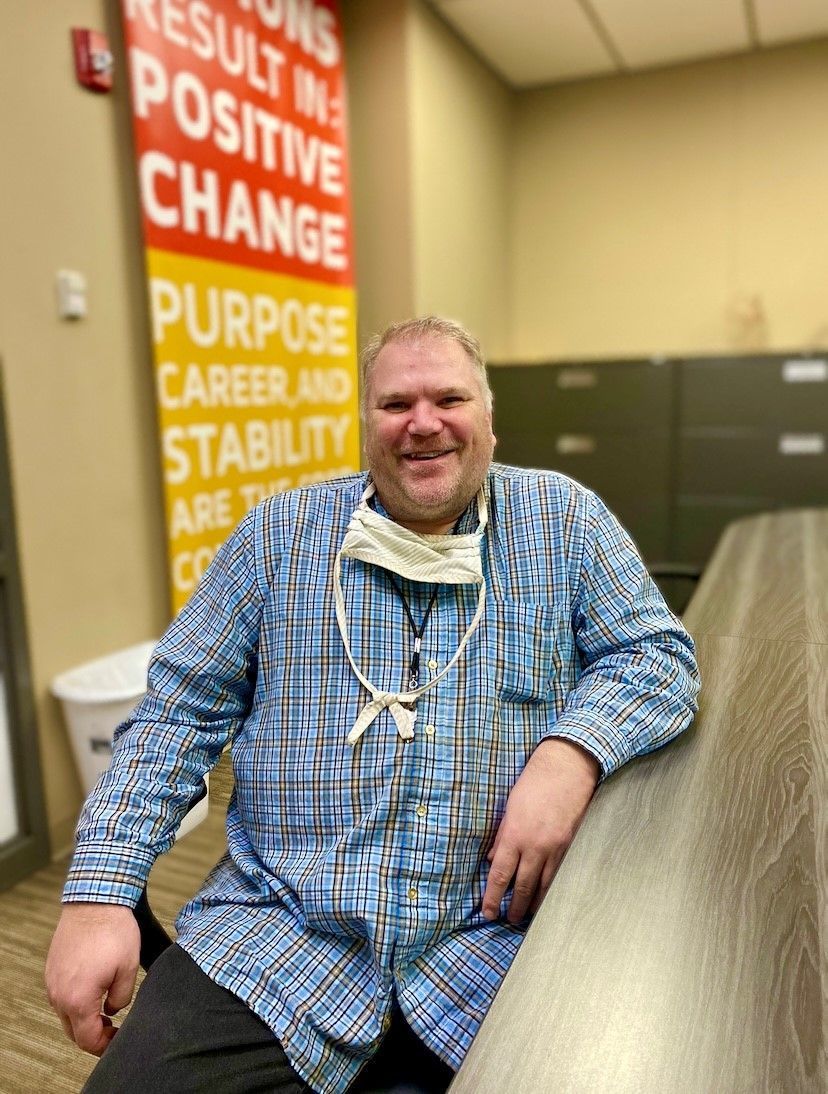 Meet Blair
Blair Engler came to CISS from Waterloo, where he was staying with a friend. Unfortunately, the living situation began to decline, and Blair found himself having to make difficult decisions. He came to Des Moines about 4 months ago where he found CISS and began living here with one goal in mind, to get back on track. He started out volunteering around the shelter with different tasks, eventually applying and securing a position in our janitorial job training program. In the past, Blair was the first person in his family to graduate from high school and worked in a creamery. For a year, he drove trucks with his dad who did the same with his other siblings, to get more work experience. Having worked in janitorial with CISS for a while now, Blair is Karen's "right hand man" when it comes to the janitorial staff. He helps to train new janitorial employees and fills her position for days she might be gone. Recently, Blair put in his two weeks' notice…as he interviewed and got a job outside of the Shelter. He also secured his own place and is excited to start his new position and live in his. In his free time, Blair likes to camp, hike, fish and play games on his phone. And if he could go anywhere in the world, it would be to Hawaii or Jamaica to be somewhere warm.
When asked what success means to him, Blair answered, "Success means to be on my own and be self-sufficient. If I knew then what I know now things would have been better, and now I'm working hard to get the things I once had, back"
-The Other Side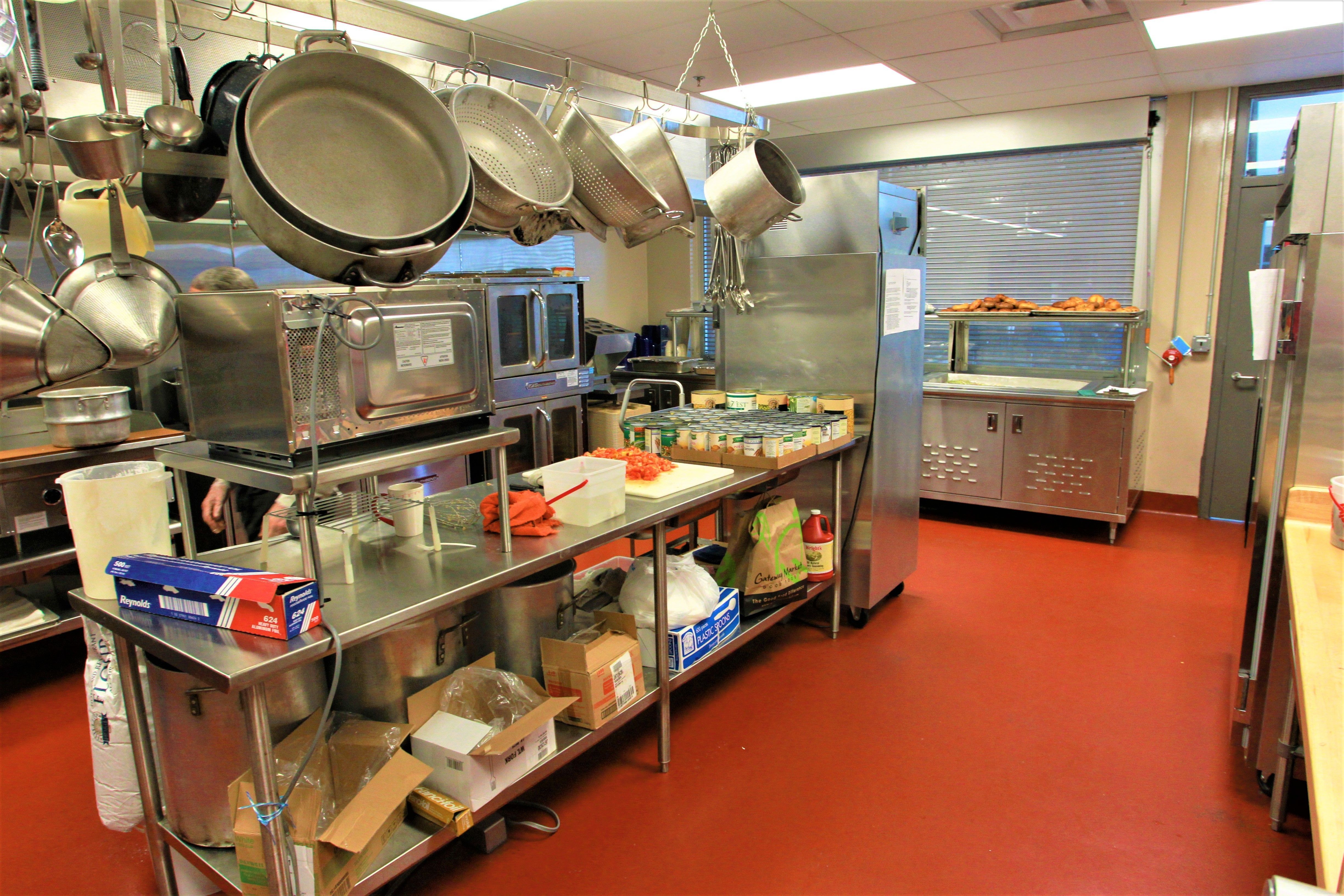 Anonymous
"I'm from the Des Moines area and have always lived around here. After getting my GED, I began working as a hostess, server and dishwasher at different restaurants…as well as working in daycares. I'd have to say my favorite out of the two has been working at restaurants. About three and a half months ago, I found myself at Central Iowa Shelter & Services. My boyfriend and I were renting a house together before I decided to leave due to our unhealthy relationship. When I left, I moved in with my parents but could only live there for so long. I did not want to be here at all because, to me, homeless shelters were the end of the line. My brother always told me horror stories about living among the homeless and this was the very last place I wanted to be.
As soon as I got here, I found quickly that this shelter was here to help me if I put in the work. I took every advantage of my appointments and resources, before realizing I needed to do more. I helped in the laundry room regularly and met Joe, the maintenance technician. He recommended me to Tonya, the culinary director, and she offered me a spot in the kitchen job training program. I moved forward quickly in completing the program and continue to work as a paid employee. Even though I am not making much money, I love the support I get from the people I work with. I feel like I have so much help and understanding from my colleagues, staff and other residents. Here, people just want to help people.
For the future, I would like to start seeing a counselor and focus more on healing myself. I would like to continue to work here, expanding my culinary knowledge with classes and trainings from Tonya and her program."
-The Other Side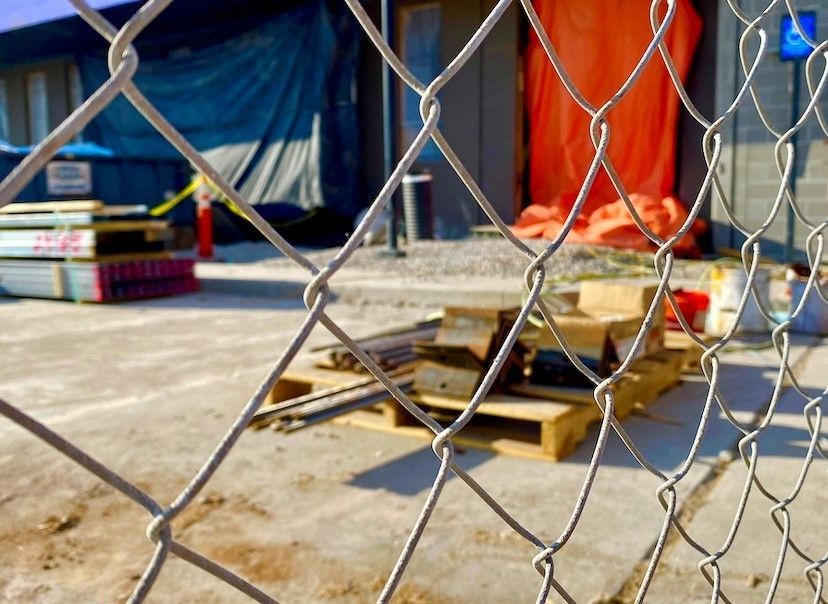 Meet Dino
Dino is no stranger to the shelter, or the Des Moines community. He was born into an Italian family where his father and his family were from Sicily. Growing up on the southside of Des Moines, right next to the Cubs field, they called it "little Italy". In fact, Dino spoke Italian before he ever learned how to speak English. He graduated high school and went on to pursue carpentry. For 40 years, he did what he loved…building things and creating art. He built cabinets, houses and more, before he ended up getting injured which affected his work. Dino found himself at the shelter after being on probation and it got revoked. From there, he was sent to Fort Des Moines on a work release. However, being on disability, Dino couldn't do any of the work. So he was sent to us at the shelter where he began to pursue personal housing immediately. To him, being persistent and constantly pursuing housing is what can get you in and out of the shelter the quickest. He knew he didn't want to sit around for something to happen, wasting his time. Now, Dino is excitedly waiting for apartment approval from a local landlord. In his free time, he loves playing his guitar and just helping others. He's really close with his family and friends, so he enjoys getting to spend time with them. To Dino, success means fulfilling your needs and goals….they don't have to be big; he just wants to be content.
-The Other Side