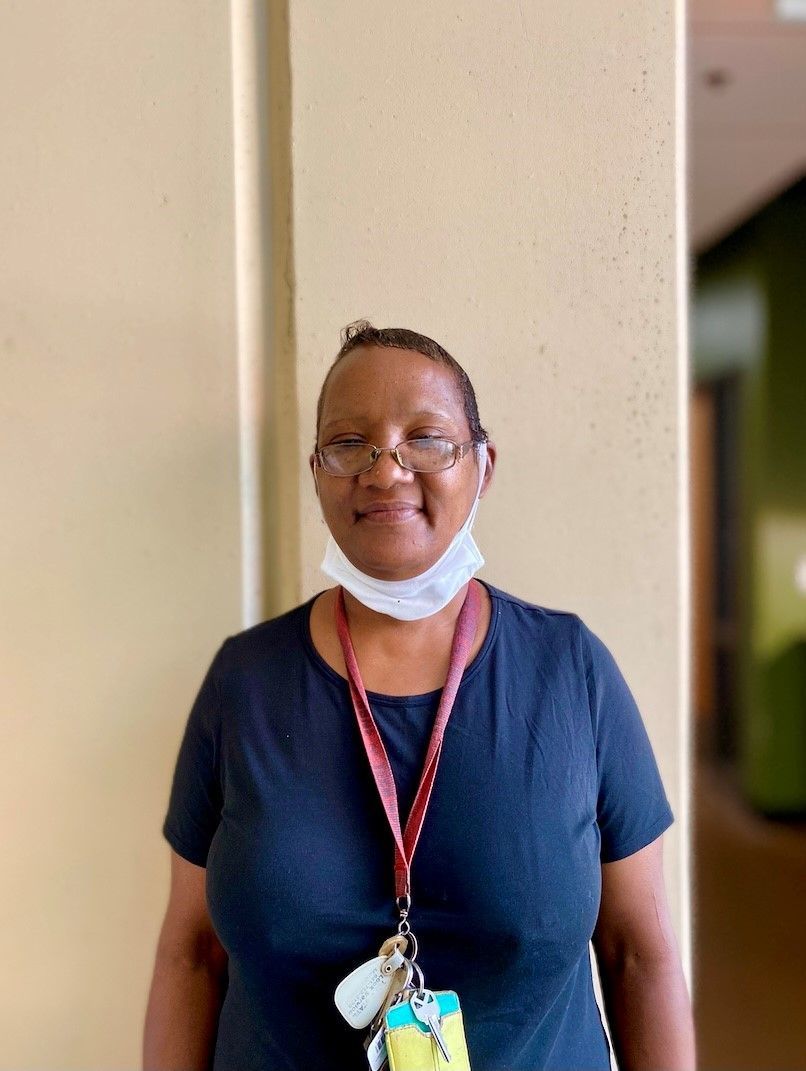 Meet Rose Mary
Rose Mary is from Chicago and moved to Iowa 20 years ago, having not been back to Illinois much since. She went to school through 11th grade, but now wishes she could go back into education…with her only limitation being the amount of computer use. Rose Mary had a few jobs here and there, but really fell in love with one in particular. Her godfather worked at a nursing home and invited her to come clean for them every once in a while. She found joy in cleaning, using it as a gateway to help others.
Unfortunately a couple months ago, her husband passed and she had a limited amount of time to pay rent. When she struggled to do so, her pastor (and one of her husband's friends), helped her explore her options and ultimately lead her to CISS. Rose Mary came to the shelter and started work in the janitorial program, where she has enjoyed her work greatly. "I love the janitorial team, they've been awesome. They know how to clean using the right stuff…never just plain ol' soap and water like some people might think" – Rose Mary
In her free time, Rose Mary likes to go to church and loves helping others. However, she is still dwelling on the loss of her husband and hopes to find peace and comfort with it soon. To Rose Mary, success means that if she can take care of people…she'll be happy. She wants to be the best that she can be.
-The Other Side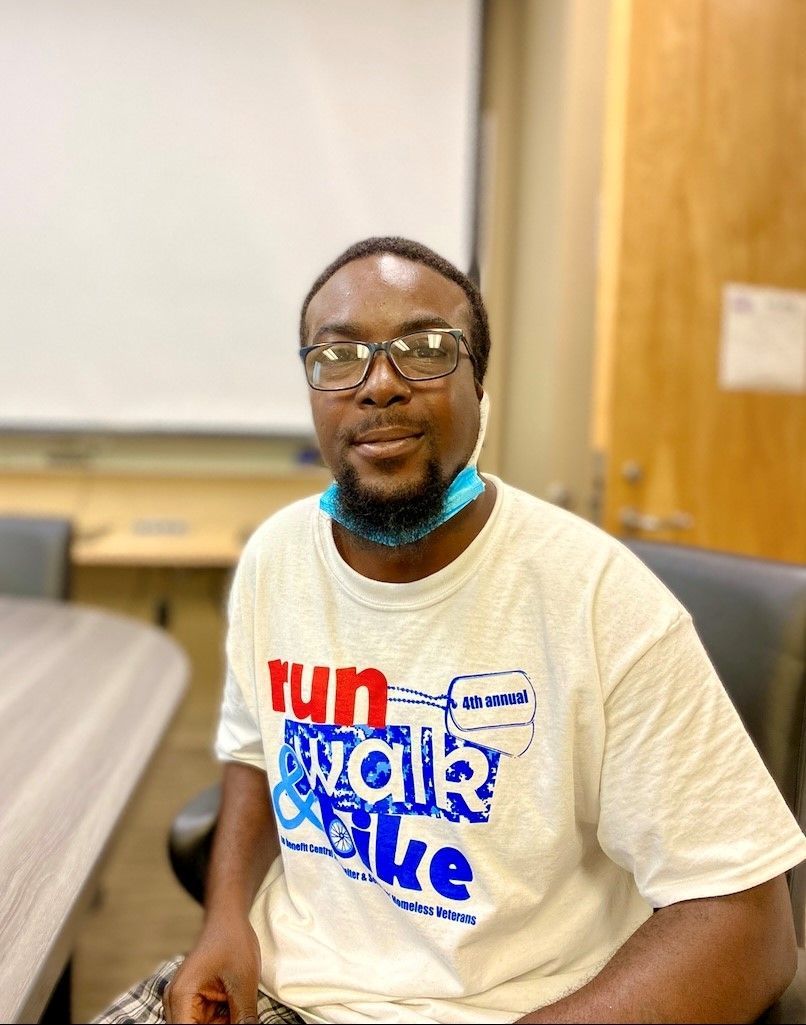 Meet Quincy
Quincy came to Des Moines about 2 months ago from Chicago. He graduated high school and has worked many customer service jobs since finishing. After working at places like McDonalds, Home Depot and Super 8…he switched career fields into delivery and manufacturing. From there, he traveled from Illinois to Wisconsin and Indiana where he worked in different factories. A few years later, Quincy decided he needed to be closer to family…who had moved to the Des Moines area recently.
So, he moved here and came to CISS to get grounded. He recently started in the janitorial program and has found a passion for cleaning. Soon he will have an appointment with one of our case managers to discuss what kind of housing he is eligible for. Quincy plans to stick with the janitorial and move up as much as he can through the program. In his free time, he likes to play basketball, cook, exercise and listen to music. To Quincy, success means reaching his own personal goals.
-The Other Side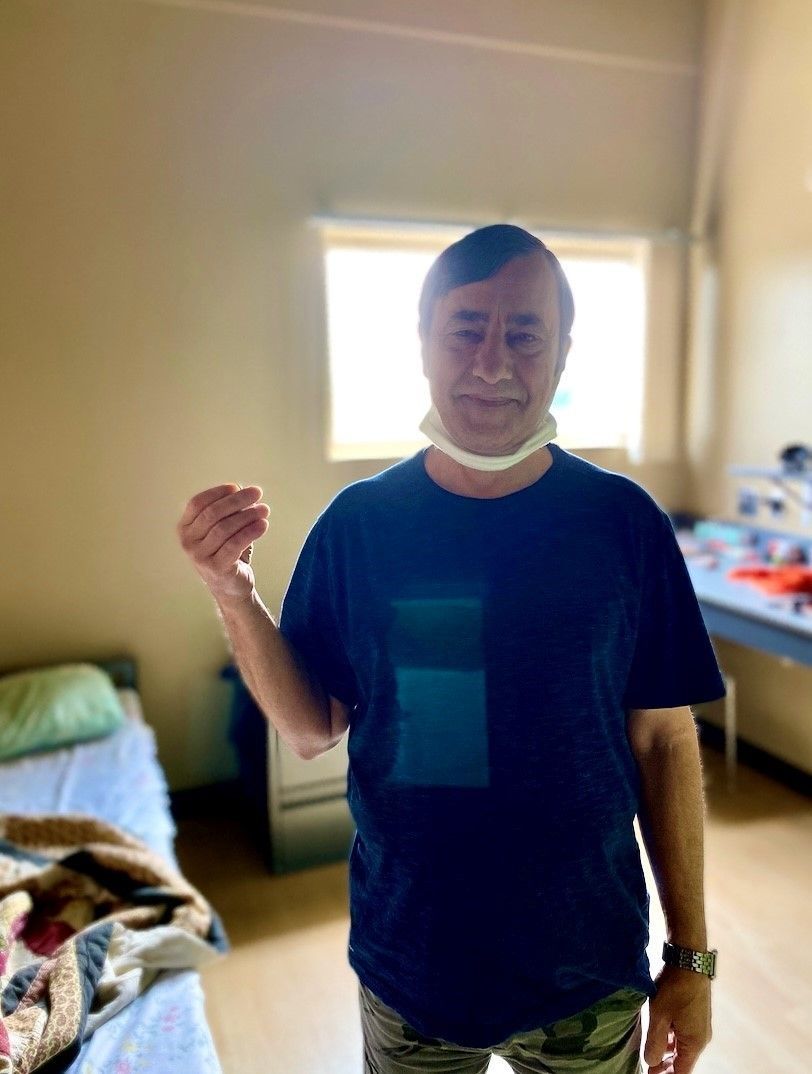 Meet Danut
Danut is from Romania and came to Des Moines in 1990. He went to school through 8th grade before working in his parents' family restaurant in Romania. He took his love for cooking to the U.S and worked many jobs as a cook in places like Spaghetti Works and Noah's Ark. Danut makes everything homemade, with his favorite cuisine being Italian.
"I love making Italian food, because EVERYONE loves Italian" -Danut. From seasoned flour to the sauce itself, every pasta dish Danut cooks is completely from scratch.
Unfortunately, he suffered a stroke last year and found himself out of work for a long time. This stroke affected his mind in many ways, especially in his critical thinking and memory. While in recovery, he couldn't get a stable income and found himself displaced. So, he came to CISS in hopes of working something out. He stayed in the emergency shelter for awhile before getting a job in our community kitchen and moving to the 2nd floor in his own apartment. Now, Danut has been working in our Mulberry St. Café since March cooking breakfast and has loved it.
-The Other Side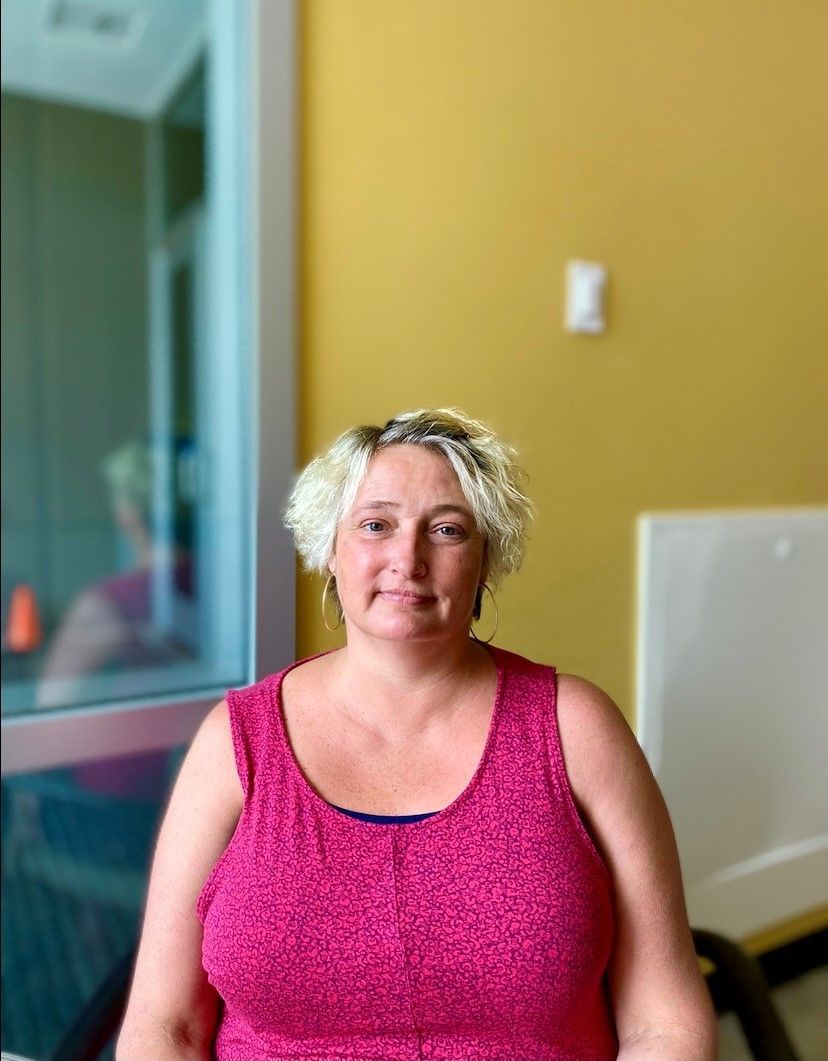 Meet Tracie
Tracie moved to Iowa last year after she was diagnosed with colon cancer in Oklahoma. She came here to receive more accessible medication for treatment and ended up in Ames. After spending a month in shelter with her son, she was able to get her own apartment. Unfortunately, Tracie and her son were unable to continue to pay rent and found themselves evicted. The two went to Tampa after her son had a warrant out in Iowa. They were homeless for 6 months before her son was picked up and Tracie came back to Iowa to get a handle on her medications with her recent Lupus diagnosis and to be near her son again. "Being here at CISS allowed me to rest from my illness, get back on track with my medications and seek out resources to help me get back on my feet" -Tracie
Now, Tracie has been approved for disability and entered the rapid rehousing program, excitedly awaiting her approval for housing. She also is known for being an excellent worker in our laundry room at the shelter. Doing the laundry here at CISS helps to keep her active and is a great way for her to help others, one of her favorite hobbies. Tracie loves to paint, swim and prays to God every day to stay positive. To Tracie, success means that she has gotten her own housing, vehicle, steady income and is overall back to being independent and self-sufficient again.
-The Other Side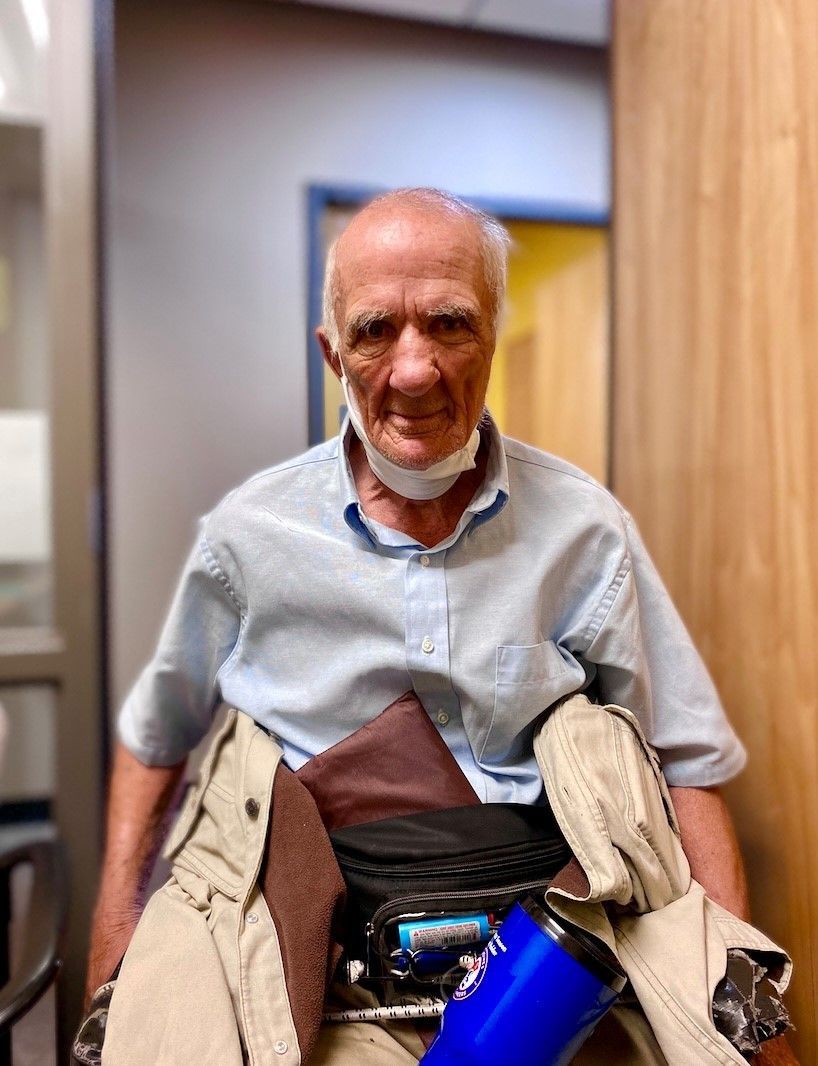 Meet Alan
Alan is 79-years-old and originally from Illinois. When he was a kid, he dropped out of school after 8th grade, finding it difficult to keep up with his education. Instead of sitting in the classroom and reading from textbooks, he pursued work and found a love for it. Most of his experience is in farming and started out part-time working in the summer, but then moved to a more full time position after a few years. He worked for a man who owned 100+ acres of farmland, helping him to raise his livestock and with upkeep. After working for him for 18 years, the man decided to sell his farm to move into town. He gave Alan a good discount on his livestock, so Alan worked on raising them to sell to surrounding places.
This isn't the first time Alan has been through Des Moines. Back in 89', his car broke down so he started up work with a man in the area to make parking lots. After raising enough money to fix his car, he did just that and was on his way again.
In 2015, Alan was living with his sister when her overall health began to decline. He decided it was time for him to move out and work on becoming stable on his own, coming back to Des Moines in 2017. He stayed in an apartment for a few more years before becoming displaced. With no where to go he came to CISS, working with case managers to find him housing again. As a person who is disabled, Alan doesn't let that stop him in working hard every single day. Our case managers can attest to his work ethic, as he is always pitching in with chores around the shelter. Alan lifts lunch tables to be swept and mopped under, and is one of the first to volunteer with other duties as needed.
Alan is excited in that his case managers surprised him by finding and securing him housing. Now, he has a move-in date next month and is happy to begin living on his own again.
-The Other Side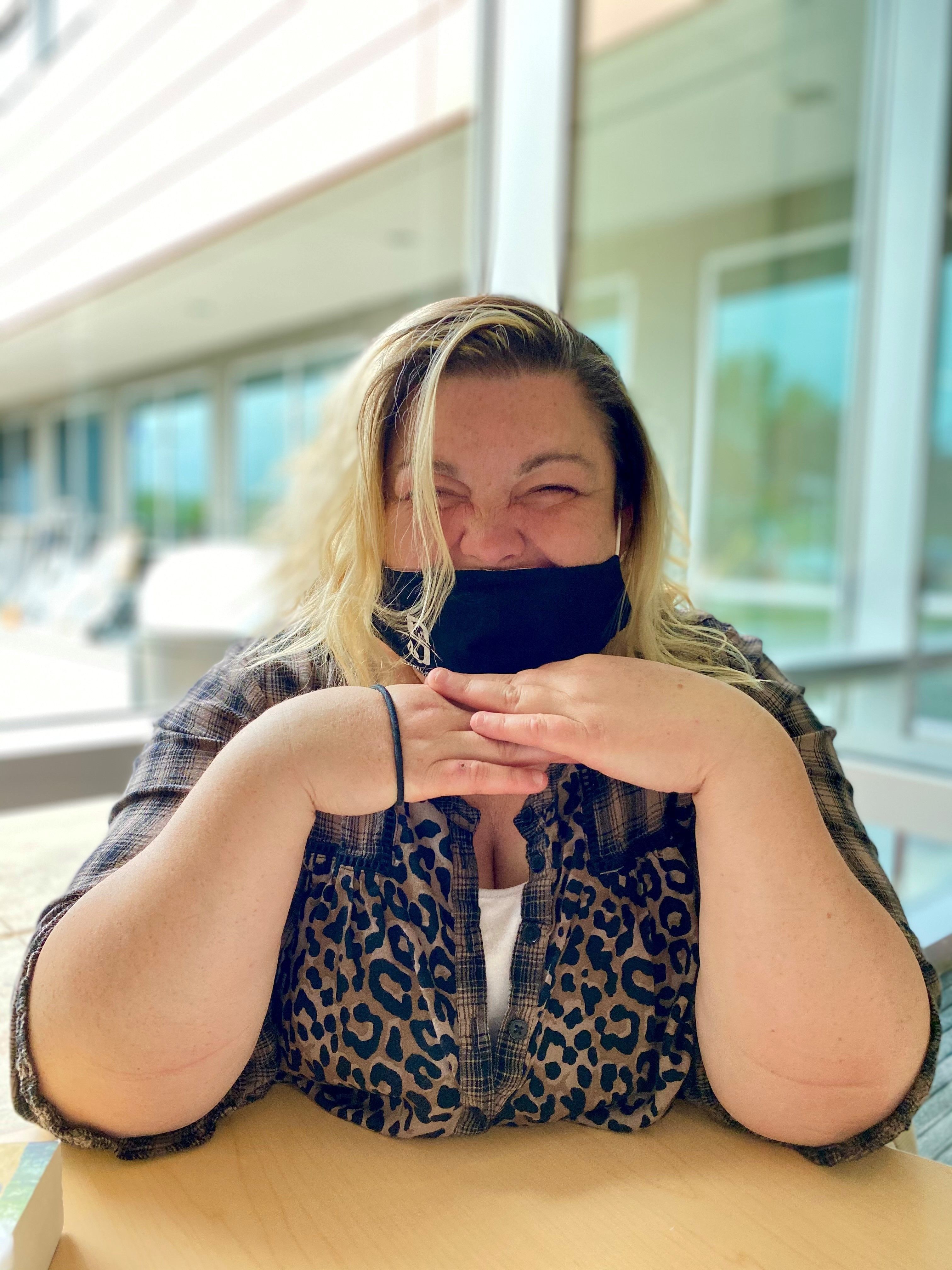 Meet Kassandra
Kassandra has her GED and worked many years in restaurant management before she moved on to be a peer support specialist in sober homes. She loves working with others and being able to uplift those who have gone through the same things she had.
Unfortunately, Kassandra found herself victim to domestic violence and quickly began the move out, moving from program to program in order to find a safe space. After 3 years, she found herself at CISS where she immediately began working towards a more stable life again. Within her first day, Kassandra met with a staff member who helped her get connected and apply to the job training janitorial program. She just started this week and already has been met with "nothing but positivity" since she's been here.
"I want to empower people even though I myself am still in the healing process. I want the Lord to use me to advocate for others who have trouble doing so on their own" -Kassandra.
In her free time, Kassandra likes to help women and children who have been through difficult experiences and spending time with her mom. To Kassandra, success means living out every day to the best of her ability, using her blessings and past trauma to be a positive light to others.
-The Other Side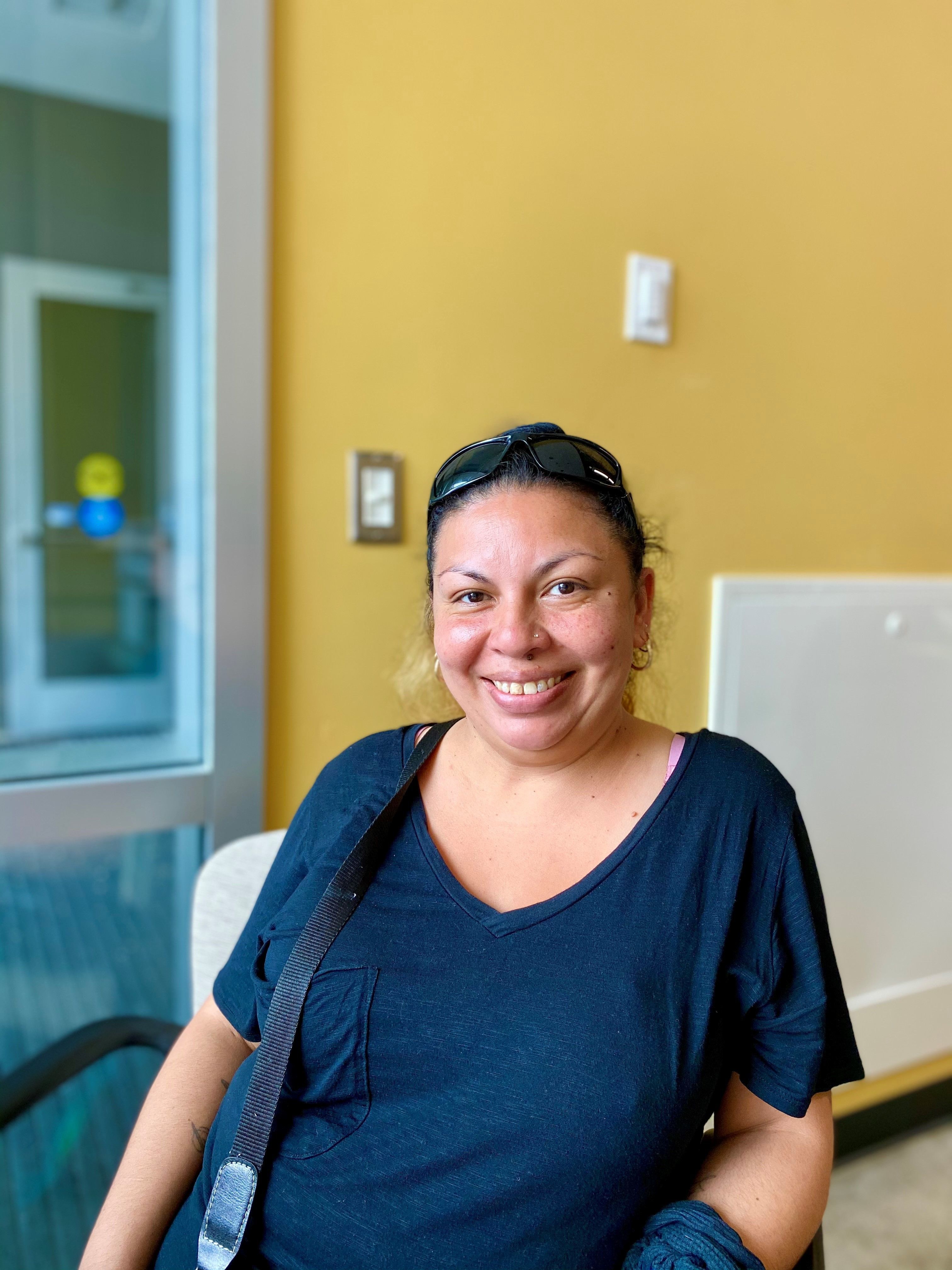 Meet Olivia
Olivia was born and raised in Panama, but recently from North Carolina. Growing up, she was only in school up to 7th grade before she found herself working in gangs and on the streets to get by. She had been involved with drugs and only made money through working in her gangs, finding herself in and out of jail. It wasn't until recently that Olivia was in Texas and her boyfriend called her, letting her know about CISS.
So, she packed up her things and came up here a week ago. Olivia started the job training program on Tuesday and already loves it. It's her first job she's had where she had to work for money…and says she finds great accomplishment in it.
"I feel proud, like I'm doing something useful and helping others"-Olivia.
Now, Olivia's goal is to continue the job program and build her skills so she can find a full-time job and be more stable again. In her free time, Olivia loves to cook and clean, and also enjoys art with her favorite thing here so far being the sculpture park. To Olivia, success means you're working to achieve something no matter what it may be.
-The Other Side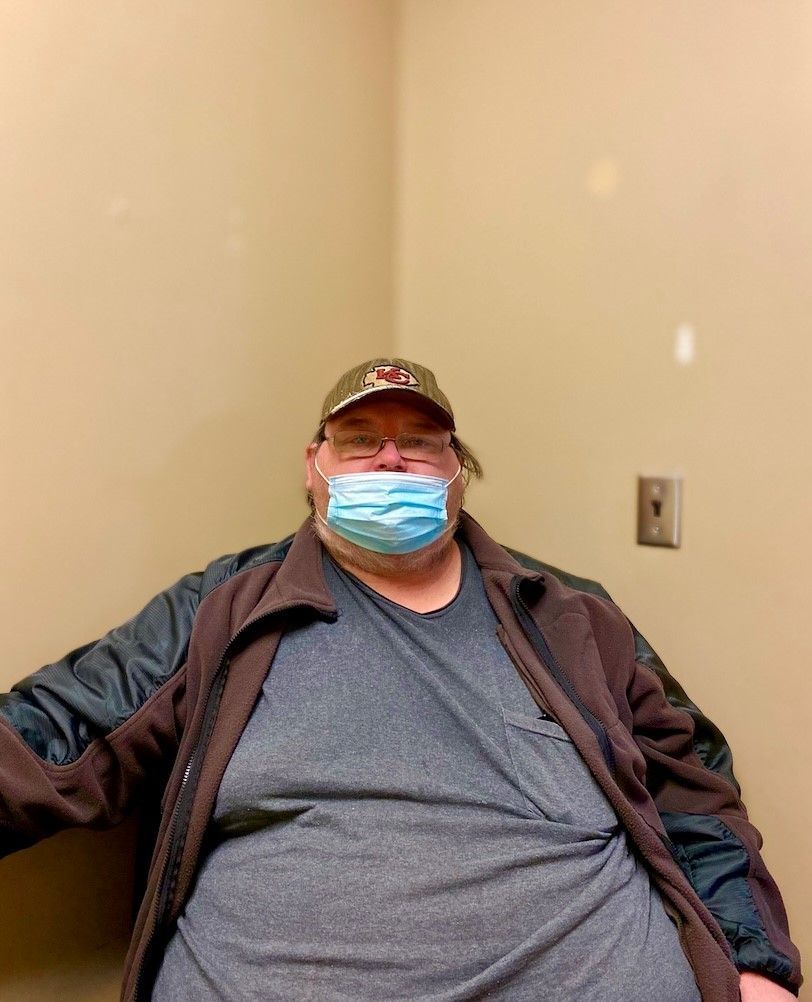 Meet Lee
Lee is from Stuart, IA and spent almost his entire life there from junior high. After a year of college, Lee started work at a credit company before they went out of business, then on as an HR support to small businesses. After that, he worked at Wells Fargo for many years before acquiring his most recent job as a bio security officer at Rose Acre Farms.
After working in so many positions, his favorite one of all was raising his now 18 year old daughter. Lee raised her solely the past 8 years after complications with his ex-wife. His pride and joy is his daughter, whom he loves dearly.
While working at the farms, his health began to deteriorate and he could no longer work. He and his daughter were living in his father's house, until after a year and a half, he could no longer keep up with taking care of it and his father sold it. Lee found himself at the shelter, but his hope never faltered.
"When that happened, I asked God to grant me humility and humble me. And he put me here at the shelter. He put a roof over my head and fed me every day" -Lee
Lee is proud to say he is 15 days away from finishing the Bible, and is an avid believer who hopes to lead bible studies in assisted living communities after his time at CISS. Now, Lee is excitedly waiting for his move in date, as he is in the approval process for housing.
"The staff has been truly amazing. It's nice to be somewhere that people genuinely cared about helping. This is a really nice place to be."- Lee
-The Other Side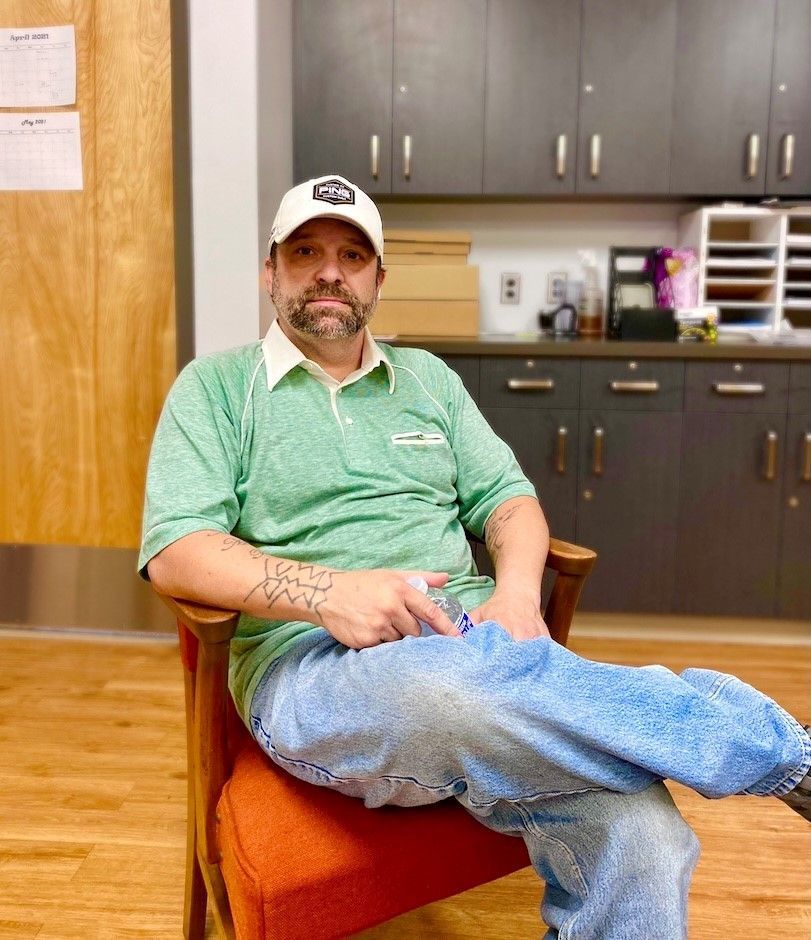 Meet Coby
Coby is from Colorado Springs and came to Des Moines in June 2020. He obtained his GED and has lots of work experience in janitorial, mechanical drafting, construction, etc. Out of all the jobs he's had, his favorite is painting. In fact, he loves painting so much that he can cut into just about any angle of a wall free handed! Coby came out of Iowa DOC for a few charges and then went through Bethel Mission's Door of Faith program, he got a job at Menards. After working there for a while, he struggled to pay his high cost of rent and a supervisor of his suggested going to CISS for any housing help he may need. He followed her advice and came to CISS, where he began utilizing the shelter's resources immediately. He is now employed in the janitorial program and is currently in OSHA training, "This shelter is so different from any other one I've seen. There are so many resources, and I keep telling my family how amazing it really is".
In his free time, Coby loves to paint/draw, listen to music and has even found a love for bull riding in the past. Now, he is focused on completing the janitorial program and finding housing, as well as a full-time job. To Coby, success means being proud of himself and being happy with what he's accomplished. "It makes me feel free"- Coby
-The Other Side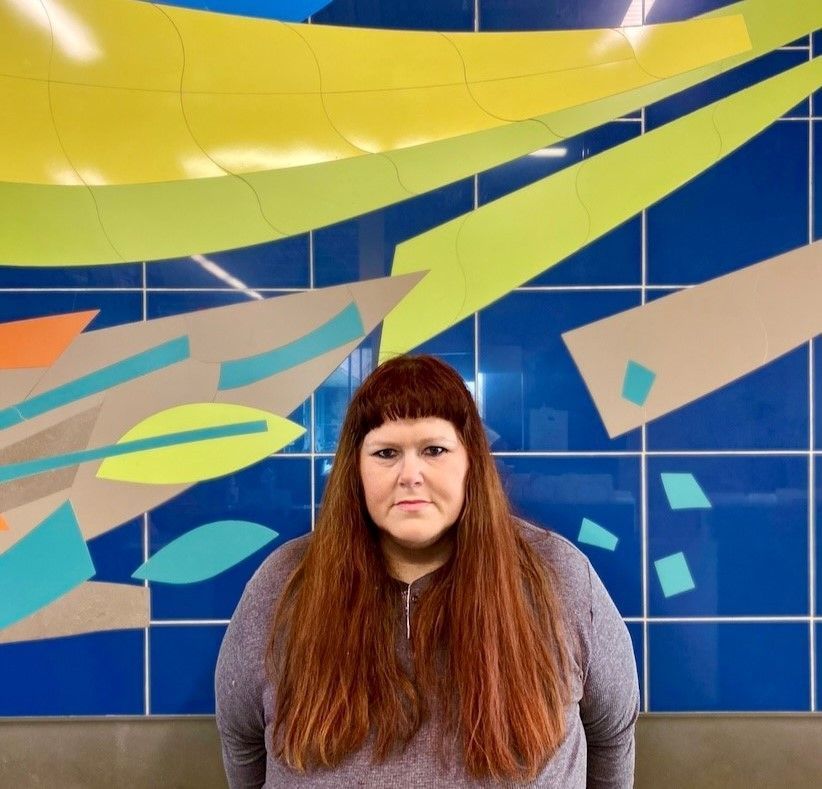 Meet Tracie
Tracie grew up in Mt. Pleasant and only recently came to Des Moines when she became displaced. Growing up, she loved helping others and in fact, found a passion for doing it through secretarial work. As a senior in high school, she landed her first secretary job at city hall in the recreation department. She loved filing, directing others and creating newsletters. After high school, she went to Southeastern community college for secretarial and office experience. While she was there, she was trained how to file many types of forms and loves doing it. Tracie then went on to work as a secretary in the safety department for the Army, making sure documents were thoroughly checked and helping people who worked there get the assistance they needed. Recently, she had been living with a family in Hillsboro until they moved away. She chose to come to Des Moines because her daughter and grandchildren live in Ankeny. After coming to the shelter, she began to work her way to self-sufficiency in finding housing and even working through our Rolling Hills Coalition program to find an apartment in Lee County. If you were to come into shelter, you would find Tracie sitting down with someone to help file a food stamp form, or maybe a housing application. She's known for helping our residents when they need to fill out important documents to access their resources. In her free time, Tracie loves to play casino computer games and visiting her grandkids. When she moves to her new apartment, she's looking forward to finding places she can volunteer at and help others. To Tracie, success means using your time to help others and help them strive for their goals and achieve what they want in life.
-The Other Side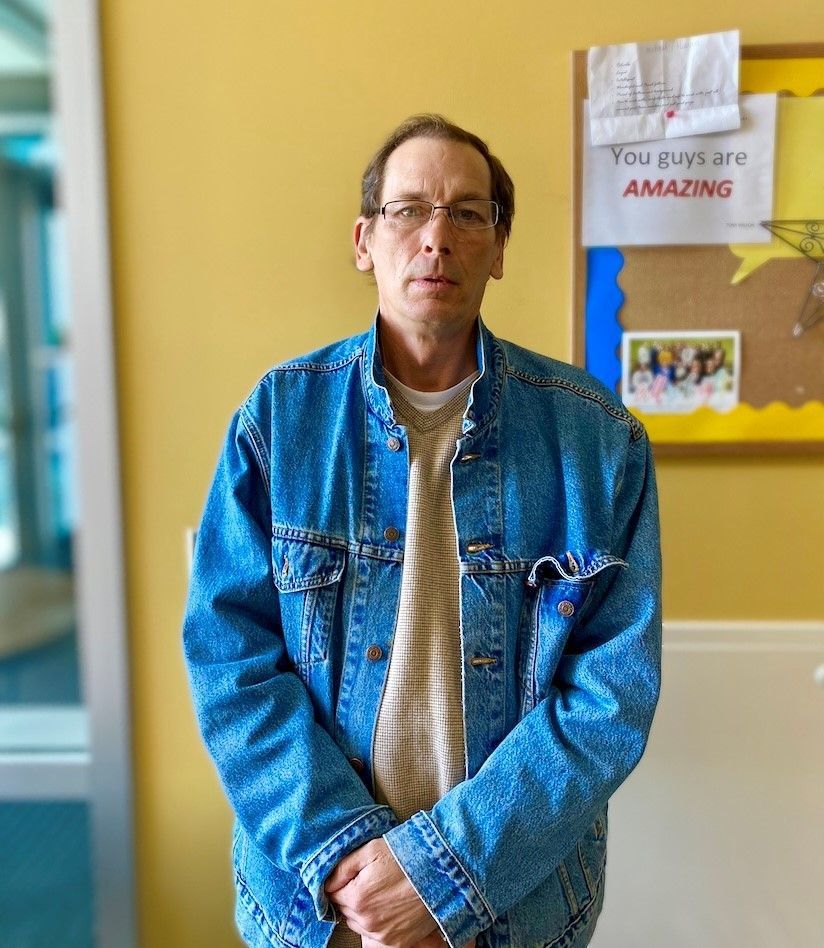 Meet Tim
When he was a child, Tim was injured and suffered from this injury through his education and work. He was unable to finish high school after trying many times. Tim then decided to get into construction work, finding a love for his profession. He could go for a drive all around Des Moines and point out which houses, hotels, Walmarts and buildings he helped build. He played a significant role in the Des Moines community in growing its infrastructure. At 28-years-old, Tim got into a fatal car crash, killing everyone in the vehicle except himself. Since then, he soothed his trauma with alcohol and drugs use. He was living with his family but after a few years, his parents had had enough and kicked him out. Tim went on to be homeless for 30 years, switching from one shelter to the next as he battled his substance abuse.
Two years ago, Tim entered Bethel's shelter and sobering program…graduating successfully and having been clean ever since. While he was at Bethel, he worked with one of our case managers here, Dee, to get his housing paperwork completed approved before getting his own apartment on the 2nd floor of CISS. Tim was ecstatic and so joyful that he had his own place to himself. He was working part-time but had to quit as he is experiencing problems walking. While waiting for his apartment approval, he was grateful that our employees, Dee and Liz, hung onto his fishing gear and important books for him until he moved in. Tim loves to go fishing along the river and in fact, caught a turtle or two just this past week on accident! To him, success means you've got something done in your life that's never happened to you before. He also said, without Jesus, there is no way he would ever be here now.
-The Other Side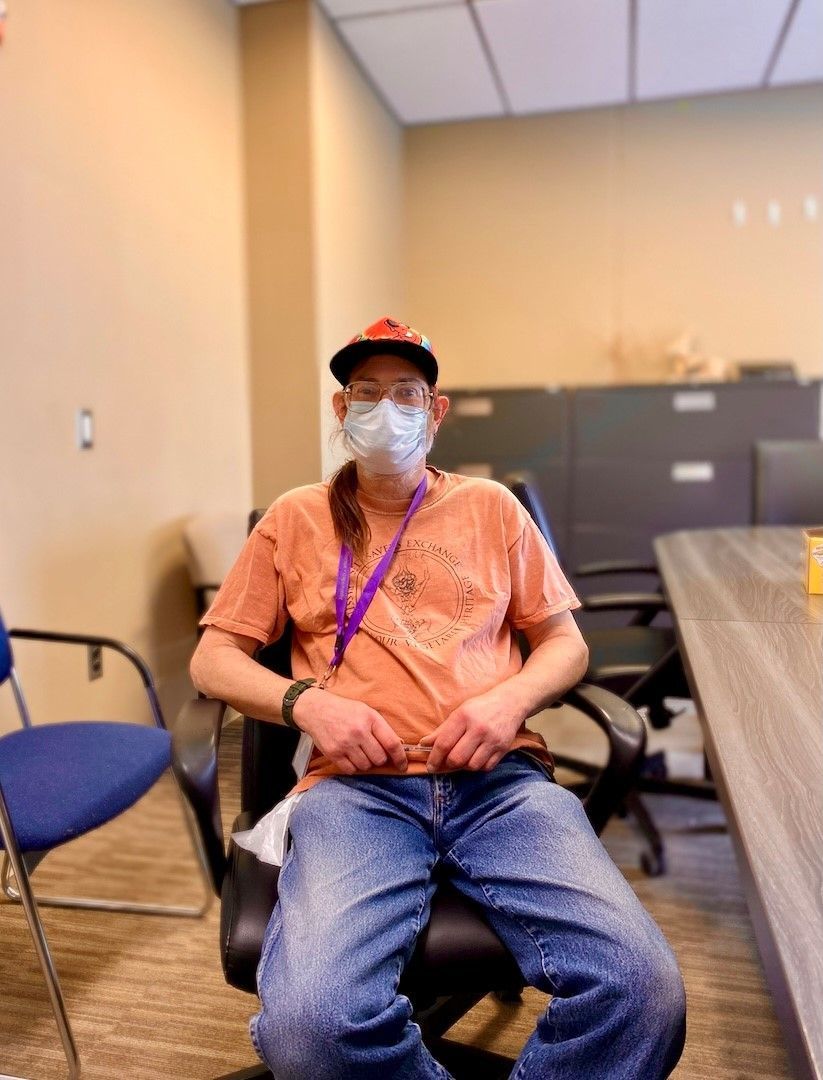 Meet Eric
Eric came from Granger, IA…where Jester Park was his stomping grounds and only minutes away from his family home. After graduating high school, he got married and moved to Des Moines, having lived here ever since. He obtained an Associates degree in electronics and computers, going on to work for the company Intoxalock. He enjoyed his work there, getting to be a part of multiple departments and doing many things. He also worked as a driver for Schwan's and in customer service positions at gas stations and restaurants. As Eric's years went by and many things happened, he eventually found himself in need of assistance when he was unable to afford a place on his own when he needed to pay child support. He stayed with his parents a couple times but found it difficult to do so when he didn't have a license or a car to go out and find more job opportunities. He also didn't want to be a hinderance to them. So, he found himself at CISS 2 weeks ago, where only days after moving in did he get onboarded into the job training program in janitorial. Eric is proud to say his child support is paid off and he's excited to start saving up money for his own place. In his free time, Eric loves to collect rocks and has many fossils he's found just by chance. When asked if he could go anywhere in the world, he was quick to answer with 'Scotland'. He loves the castles there, in both the history and architecture, and how they planned the secret passages and doors.
-The Other Side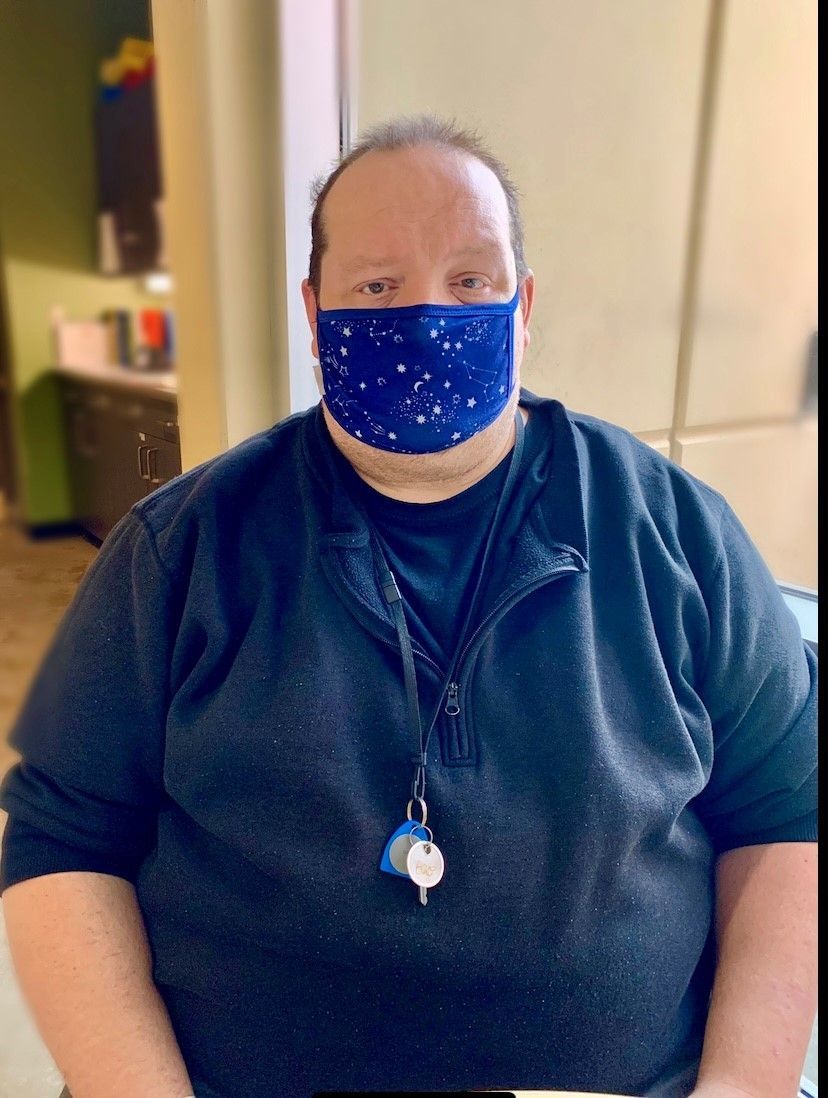 Meet Jason
Jason was born in Omaha, Nebraska. Adopted into a preacher's family, he moved from church to church across the country growing up. Jason decided to stay in California as his family traveled on, and this being where he met his wife. They then moved to Mississippi and in 2015, Jason lost his wife. Coping with her passing and his depression, Jason started to drink heavily. He was then diagnosed with atrial fibrillation (AFib).
Jason found himself homeless, no job, and decided to move in with some 'friends' in Oregon during the beginning of the pandemic. Shortly after, he was kicked out and lost what money he did have. Jason came to Des Moines in July after learning his father had COVID-19 and has been here at CISS since. He moved into the apartments in November and enjoys being so close to his job.
Jason works in the kitchen as the lead overnight cook and has recently been ServSafe certified. His favorite meal to cook is meatloaf with mashed potatoes and green beans. He had a heart attack in early February and appreciates the shelter accommodating him as he returns to the kitchen and helping cater out meals to affiliated organizations.
He is grateful for the services provided at CISS, especially those with housing setup, helping clients get their identification cards and paperwork, and the job training program.
When it seemed as if everything in life was going against him, Jason has stayed positive the whole time… "Life's going to throw you whatever, but it's how you deal with it."
-The Other Side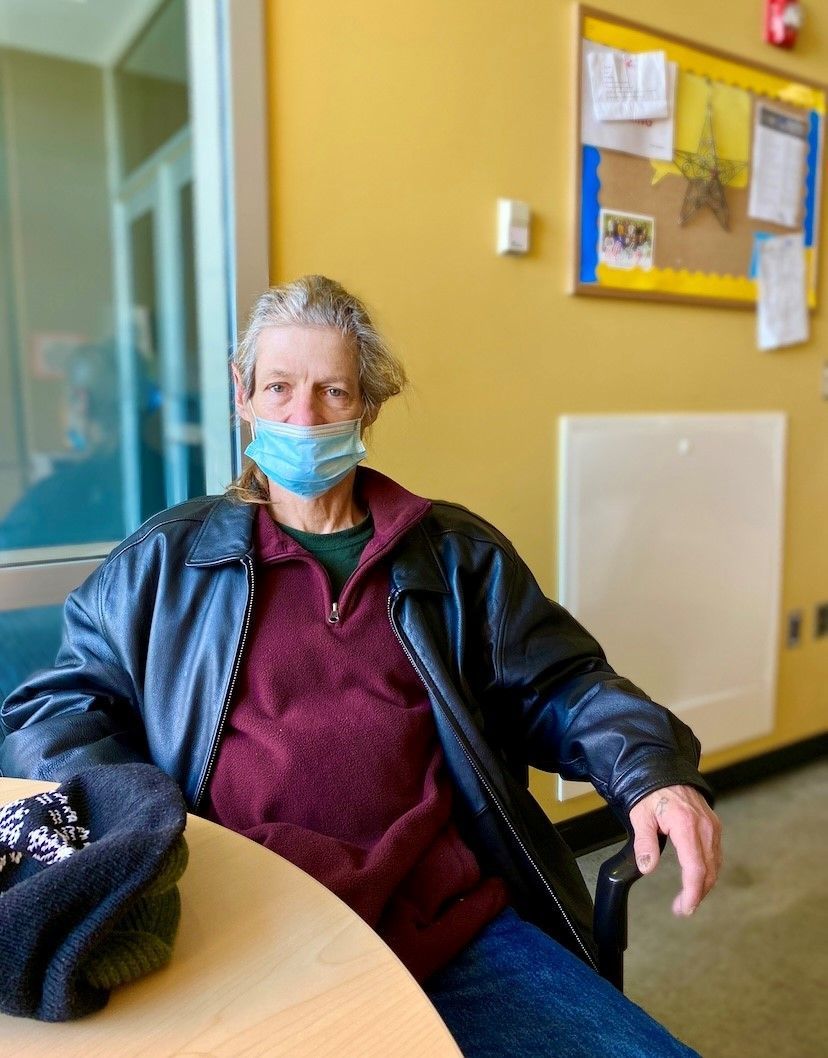 Meet James
James is from Cedar Rapids, IA. There is where he met his best friend, Danny. The two of them were inseparable and no matter where they were, they always managed to stay in touch. Whenever they hung out, it was like picking up where they left off. A few years ago, when James was living in Florida, he got a call from Danny that he was dying of cancer. James dropped everything, leaving his housing and job behind to book a one-way ticket back to Iowa to see him. Only two days after he came to Iowa, Danny passed away. James said he didn't regret a thing, being able to see Danny smile one last time was worth it. Afterwards, James began living with Danny's brother. After an altercation involving his brother's drinking, James had a couple broken ribs and a hurt back. Since then, James hasn't been able to work and had no where to go after he left. His family still lives in Cedar Rapids, but to not be a burden, he was determined to do whatever he could to get his life back together on his own. James came to CISS knowing he had a lot of work to do in facing his substance addictions, gathering the right documentation and working out problems from the past. After a few months of being able to persevere through rejections, therapy/counseling and setbacks, James finally got the call Thursday morning that he was approved for housing.
In his free time, James loves to read his Bible and calls himself a "food nut", always wanting to try new restaurants. He also likes to go to the movies and watch plays when he's able.
-The Other Side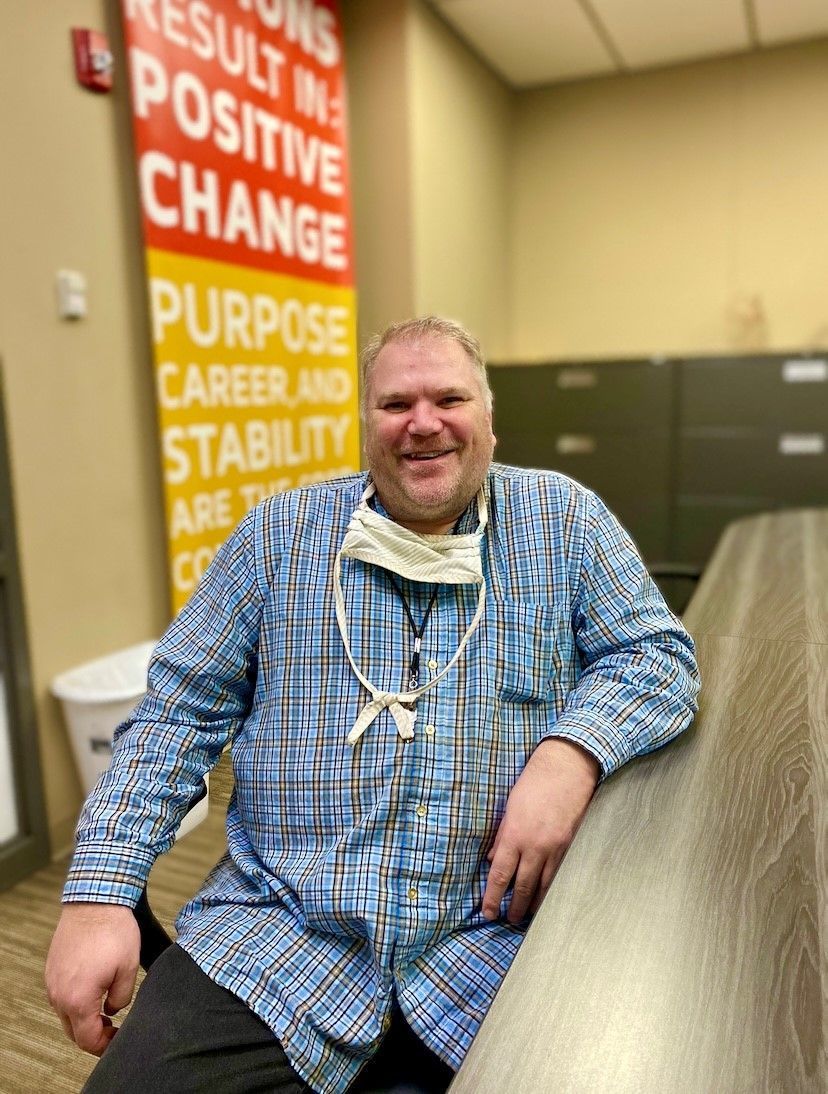 Meet Blair
Blair Engler came to CISS from Waterloo, where he was staying with a friend. Unfortunately, the living situation began to decline, and Blair found himself having to make difficult decisions. He came to Des Moines about 4 months ago where he found CISS and began living here with one goal in mind, to get back on track. He started out volunteering around the shelter with different tasks, eventually applying and securing a position in our janitorial job training program. In the past, Blair was the first person in his family to graduate from high school and worked in a creamery. For a year, he drove trucks with his dad who did the same with his other siblings, to get more work experience. Having worked in janitorial with CISS for a while now, Blair is Karen's "right hand man" when it comes to the janitorial staff. He helps to train new janitorial employees and fills her position for days she might be gone. Recently, Blair put in his two weeks' notice…as he interviewed and got a job outside of the Shelter. He also secured his own place and is excited to start his new position and live in his. In his free time, Blair likes to camp, hike, fish and play games on his phone. And if he could go anywhere in the world, it would be to Hawaii or Jamaica to be somewhere warm.
When asked what success means to him, Blair answered, "Success means to be on my own and be self-sufficient. If I knew then what I know now things would have been better, and now I'm working hard to get the things I once had, back"
-The Other Side