David Venega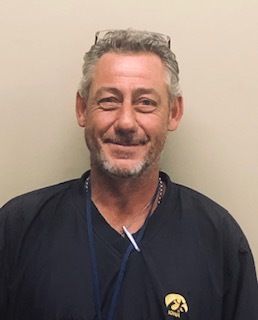 My name is David Venenga, I came to the shelter in January 2020 from Texas after my father died. I grew up in Grimes, Iowa and attended Dallas Center Grimes High School. I did not continue my education after high school because, I was always bored in school. I have always loved the outdoors, so I found my niche in landscaping here in Iowa and continued with it while living in Texas.
When I came back to Iowa, I was shocked to find out my ex-wife had died as well. I did not stay with my mother, because I just never had a relationship with her, not that we didn't get along or love each other, it just wasn't an option.
The shelter has been great to me, I was able to get into the job training program doing what I love most, working in our outdoor garden space and helping maintain the grounds…I take a lot of pride in my work. The shelter has also helped me get into housing, so I now have an apartment that's my own space.
In my free time I love reading and writing, the bible is my favorite book and I collect different versions of it. I love going to thrift stores and finding old books and sometimes seeing other people's notes in the books, it's like getting to know someone in a different way. I also enjoy helping people and keeping the balance and peace of treating people equal and gaining their respect.
The coolest thing that happened to me at the shelter was when the news interviewed me for the garden and job training program.
I am so grateful for the shelter and all of the opportunities they have given me.