Tom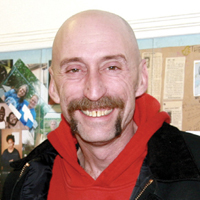 Tom grew up in Birmingham, Alabama, where many in his family still reside. He remembers visiting the east coast from time-to-time as a child to see where his father grew up. While still in high school, Tom enlisted in the Navy and was later discharged because he quit high school two weeks prior to graduation. This is when he learned he wouldn't be able to get his diploma as he was one- half credit short. However, two decades later Tom eventually earned his GED.
Since those days, life has taken Tom to various places. Panama City, Fort Lauderdale, and the Miami area are places he called home for a period of time. Each place, however, proved to be too tempting for Tom when it came to alcohol. So, two months ago Tom decided it was time to leave temptation behind and "head north." Why north? Something just told him to, despite his dislike of cold weather. Tom started walking, and while he caught a few rides here and there, for the most part he kept walking until he arrived in Des Moines. He hopes to stay for a while.
Tom is currently involved in the shelter's first work program, thus he is able to stay out of Iowa's frigid temperatures during the day. Tom works with about ten other clients performing various jobs at the shelter such as laundry, cleaning, etc. Although he isn't working in the kitchen, Tom enjoys cooking and helped prepare food for approximately two hundred clients at a rescue mission in Panama City. When asked what his favorite recipe is, Tom quickly answered, "salmon," adding that it's great when marinated in Italian dressing with onions, mushrooms, carrots, etc., and then thrown on the grill.
Today Tom is committed to turning his life around and following the path that he said God is leading him on. As for the future, Tom hopes to remain in Iowa, despite the cold winters. He looks forward to someday getting a job, owning his own place, and "living like he is supposed to." He said he knows now what he has to do. As for ideal jobs, Tom would like any job at this point, but if he had a choice, he'd like a job that involves driving.
Some of his past jobs have included driving a wrecker, woodworking, cabinet making, and welding overhead cranes, even though he is afraid of heights. In the meantime, Tom enjoys playing cards with other clients, especially rummy, commenting that he's met some really great people at the shelter. "We help each other out," he said.
What's Tom sure of? While he is currently estranged from his family in Alabama, he is confident he will reconnect with them some day.