Todd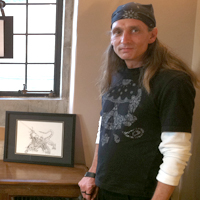 Todd came to Des Moines looking for work because he had trouble getting work in Rochester, MN. For the last year he took care of his dying mother and kept looking for work, but to no avail. After his mother passed, he wanted to move to a bigger city in hopes he would find work. Having nothing, in mid-August he came to Central Iowa Shelter; leaving his home of 15 years to start anew in Des Moines.
Shortly upon entering the Shelter, Todd took the Community Kitchen's 6-week training opportunity to learn food preparation skills. While he leans new skills, he also helps the program prepare the more than 350 meals a day to seven community meal sites including the shelter. Upon graduating, Todd is now the assistant to the kitchen manager.
He will soon move out into his own apartment where he plans to continue to pursue his lifelong passion of making art. Todd has been drawing for as long as he can remember—avidly drawing as a young child, a mere five years old and selling his first piece of work at the age of seventeen.
He was accepted into the recent art show "Out Your Artist" sponsored by the Des Moines Social Club, Salisbury House & Gardens and Central Iowa Shelter & Services. The show featured unknown local artists that were encouraged by family and friends to "come out" as an artist and expose their talents to the world.
Fantasy & Science Fiction realms are Todd's greatest passion, and his art contains an M. C. Esher-like quality to make the viewer look at the images' various intricacies of pictures within pictures and the foreground versus the background. His greatest influences are the artists Frank Frazetta and Boris Vallejo. Todd specializes in the drawing, painting and sculpture subsets of art—drawing being his primary focal point. Through his art, Todd strives to awaken people to the world around them and their creativity.
Todd said he was thankful for the Shelter providing food, shelter, peace of mind as well as time to get on his feet and start a new life in Des Moines. He hopes to one day have his own art studio and gallery.