Partner Profile: Polk County Crisis and Advocacy Services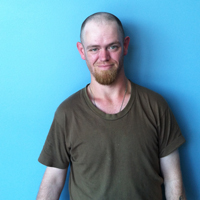 Jared came to Central Iowa Shelter & Services after being thrown out of his previous living arrangement and was referred to CISS.
He grew up a military brat. Along with his two sisters they moved from base to base due to their father's work in the military. Jared tried to follow in his father's footsteps and enlist in the military but didn't pass the entrance exams.
Since then, he had the privilege of studying under an executive chef, who taught him about cooking and food prep. "He was one of the coolest guys you'd ever meet," he said. When Jarod came to CISS he was working as a sous-chef in a local restaurant. At CISS he likes to help out in the kitchen because it gives him a sense of purpose.
Helping out in the kitchen is not all he's been able to receive from our services. Jarod has been an angry person most of his life. Since he was young, he has always had trouble with authority. He would often argue with others and, in general, he did not handle stress very well. "I've always been a 0-60 kind a guy."
Working with his case manager, Jarod's anger was identified as a barrier to successfully finding and maintaining stable housing. He began meeting with our community partner, Polk County Crisis and Advocacy Services on an almost weekly basis. PCCAS provides acute and drop-in counseling services to guests of the shelter. During Jarod's visits he has learned new coping skills, begun to identify triggers and learned when he needs to just walk away from situations. "There have been times when I've wanted to argue, but then I think about what I've learned and just walk away."
In the future, Jared plans to enroll in Des Moines Area Community College's culinary arts program so he can continue to build his chef skills. One day he hopes to run his own restaurant or catering business.