Laura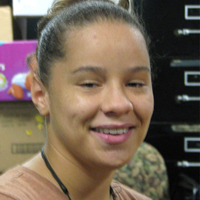 Laura, a bright 18-year-old, is shy at first but opens up when talking about her great love – reading.
Laura reads 5-6 books a day on average. When I asked her what she likes to read she stated, "Everything." Her favorite authors are what she calls "the L's" – Lora Leigh, Lori Foster, Laurel K. Hamilton and Stephanie Meyer. She was never that into reading until 5th grade at Southeast Polk in Altoona when she really learned how to read well – she picked up a book that she loved and it changed her life. She's been reading ever since.
What is this GED graduate's dream job? You may have guessed it – working at a library. She almost got a job at a library this summer but it didn't work out. That's not going to stop her from trying. She feels she has something special to offer as she can recommend books and authors to library visitors since she has read so many!
Laura ended up at the shelter because she "wanted a new start to her life." If you're not sure where to find Laura during the day, you'll find this independent, self-motivated and popular teen at the library reading or applying for jobs online. She may also be out and about applying for numerous jobs around the city.
Her goals? To get a job and to get an apartment of her own. There is no doubt she'll achieve this and much more.