Kristina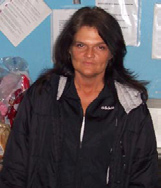 The sweetest words Kristina heard came from her son, "I'm not going to let you go again." Kristina hadn't seen her son since he was two years old. Now he's 22 and ready to build a relationship with his mother. He went so far as to come to Central Iowa Shelter & Services and lived with Kristina for a while. Now's he's settling in with his wife and expected child.
It hasn't been an easy road for Kristina to get to this point in her life. Actually, it's been a winding, twisting journey. There has been a relationship which turned ugly with rape and sexual abuse. She's had to escape from the abuse. More than once. Kristina grew up in Iowa, but found herself in Denver with no work and no place to live. In March 2008 she came back to Des Moines and landed at the White House.
A former acquaintance told her about CISS and she made her way over to the shelter. That's when things began to turn for her. The staff at CISS became her family and through the services at CISS she once again had an ID. For Kristina, CISS was a place for her to become someone again. Someone who counted. She also found faith in God and knew that He cared for her.
Homelessness is a complicated issue. It's usually not just one thing that creates it. For Kristina it was a lifetime of unfortunate choices. But now she believes that CISS is where she needs to be. "The shelter is not just a place to sleep," she said. "It is an entire program for success. But you have to take advantage of it.
"Kristina is taking advan-tage of the services offered at CISS. This spring she hopes to begin classes at DMACC. Kristina has eight children and CISS has helped her get in contact with five of them. Two of them live with Kristina's parents and she has met with all of them. She is grateful for the amazing turning in her life. She is trying to focus on what she has – faith, family and a future.