Herb – A Homeless Veteran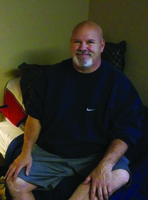 The dull glow from a bedside lamp gave the room a cozy and warm feeling despite the thermostat being set to 65 degrees and the late afternoon shadows of a dreary, rainy day coming through his window.
Herb, a homeless Veteran, sat on his bed as we talked. His smile lit up the room and I could sense how he took pride in his room on the veteran's floor of our newly constructed facility. He has been with us now for three months.
Herb was born in the Twin Cities. He has two brothers and one sister. After graduating from high school in 1977, Herb joined the military for four years and served as a military police officer in the U.S. and Seoul, Korea.
After his discharge, Herb lived and worked in Mississippi and Alabama because he didn't like the cold. Herb said, "I like living where it's warmer, and it's cheaper to live in the South."
Eventually Herb moved to Iowa. He worked at the Hy-Vee distribution center in Chariton, Iowa, until he was laid off. "When I got laid off, I thought that I would take some time and collect unemployment," Herb says. "I worked very hard all my life and wanted to take time before finding another job."
Herb suffered a heart attack, quickly fell into debt due to his medical bills and then became homeless. After learning about CISS from another veteran, he came to the shelter in July. Since then, he has suffered another heart attack and is currently recovering from surgery.
Despite setbacks, Herb pushes forward, continues to look for work and helps around the shelter when he can. "I've just got to have something to do," Herb says. "I can't just sit around." Herb hopes his work ethic inspires others and he tries to serve as a role model for others at CISS.
During the move to the new shelter, Herb helped launder everyone's clothes, packed boxes and hauled them over to the new site. Most days you can find him doing laundry and helping with odd jobs around the shelter.
Looking around the room, I was overcome by everything we are able to provide our veterans. Their single occupancy rooms are a contrast from the dormitory they slept in at the previous building. Each unit comes with its own microwave, refrigerator, two-burner hot plate and telephone.
I asked Herb if he's seen any difference among the veterans since their move to the new building. "The biggest difference I see is that people are happier," says Herb. From 14 men staying in a dormitory to each having their own 200 square foot room, many things have changed. CISS is now able to serve male and female veterans and he expects that veterans will chose to stay longer, which will improve their chance for success.
Herb starts each day with a smile and does what he can to improve his situation and that of others in the program. "I appreciate that the shelter is here to watch over me and help me succeed," he says. Herb saves all the money he can and, when he leaves, plans to be healthier and gainfully employed.