Greg – A New Start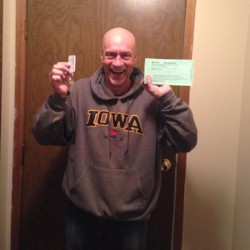 Greg entered the room talking to Dee, the case manager that helped him find his apartment. He had a huge smile on his face as he was listing off all of the items they had been able to gather for his new home.
Greg asked Dee, "Did you get me a TV? It doesn't even have to be color, it can be black & white." When she told him he gets a TV and it even has antennas to get some channels his smile got even bigger.
Greg McFarland has been experiencing chronic homelessness for several years. He spent a majority of that time camping, mostly keeping to himself. He moved to Des Moines over 15 years ago from Illinois with his girlfriend at the time. In Illinois he ran a video rental store for a while, but when he moved to Iowa, he couldn't find another career to stabilize himself. He eventually got a tent from a local group and began camping in the elements instead.
Greg is even more excited about the fact that he is moving in to his new apartment on his 51st birthday. A birthday surprise he didn't think he was going to get when he came to stay at the shelter two months prior. He had every intention of going back to camping when the weather warmed up, but just happened to see a familiar face. Dee Henriquez, the Section 8 Case Manager at Central Iowa Shelter & Services, recognized Greg when he was in the Day room one afternoon. She immediately started working with him, trying to find a place for him of his own. It didn't take long for her to find him an apartment through Anawim Housing. When he gets his new address he is going to let his mother know so she can send him a birthday gift too.
There are plenty of things that Greg is excited for in his new apartment. He is looking forward to the peace and quiet. He is going to have his own bathroom, and his own kitchen. He told me he has already planned his first meal in his new home: a roast. When he is done with that he said he is going to take a bubble bath; he hasn't had one of those in years. He said he is going to take full advantage of this next step in his life and do what he can to keep healthy.