Des Moines Zombie Walk 2016
Can you hear the
SCREAMS
 in the distance?
The call for
"BRAINS!!!"

getting louder?The zombie horde is approaching and is calling for you to join them.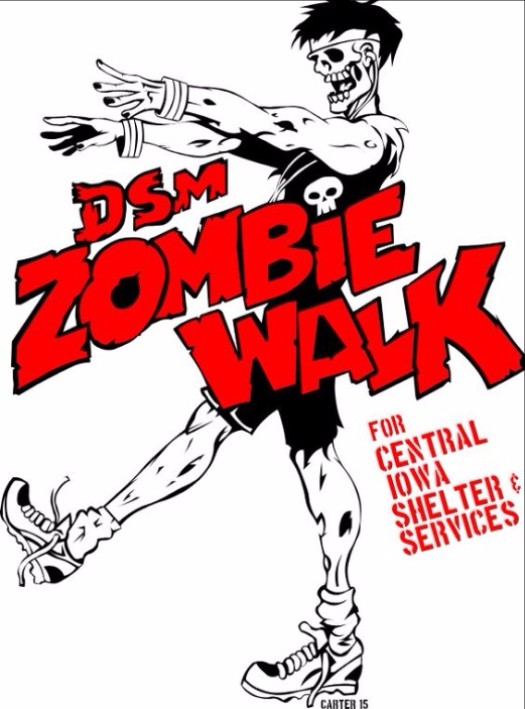 On October 8th come and join the horde as they terrorize the streets of Des Moines. Or perhaps you want to help keep them in line with the Anti-Zombie Militia? The Bazaar starts at 11 AM and will have all of the delightful pieces you need to become the perfect zombie. Face painting, fake blood, the Artist's Alley, and a costume contest. But this can only satisfy the needs of the undead for so long. At 2 PM the zombies are released on the unsuspecting city of Des Moines. The walk will go down the busy streets of downtown all the way to Court Avenue, and back up to 5th Street before returning to the our presenting sponsors at Zombie Burger. 
But the party does not end there. When the walk ends, the hunger for brains does not stop. Our friends at the Underground Rock Shop invite all, undead and still living, to come to the Zombie Walk afterparty concert. Four local bands will be on the stage from 5-9 PM to help raise money for the Zombie Walk.
How To Register
Go to the Events Calendar or CLICK HERE to purchase tickets
Shirt Sizes not guaranteed unless tickets are purchased before September 28th.
Ticket Prices*:
Adults:                 $20
        *(Tickets include entrance to the bazaar, t-shirt, chance to enter the costume contest, and the walk)
Kids (12 & under): $10
        *(Tickets include entrance to the bazaar, drawstring backpack, chance to enter the costume contest, and the walk)
*THE CONCERT IS AVAILABLE FOR ALL AGES BUT PLEASE KNOW THAT ALL CONTENT MIGHT NOT BE APPROPRIATE FOR ALL AGES. PLEASE USE YOUR BEST JUDGEMENT ON WHETHER THIS PART OF THE EVENT IS APPROPRIATE FOR YOUR CHILDREN.
What You Need To Know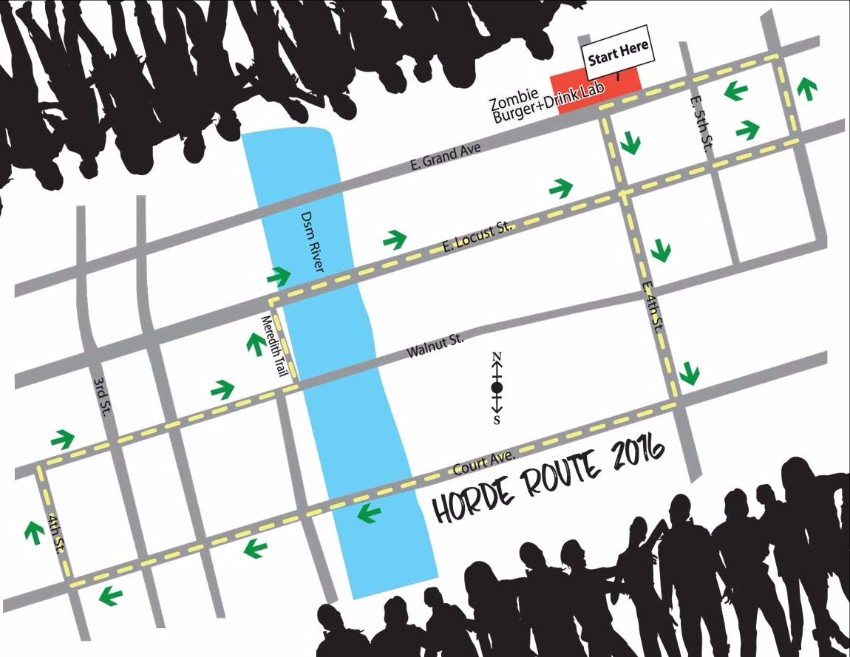 The Bazaar will take place in the Iowa Workforce Development parking lot across the street from Zombie Burger. With all of the construction downtown, please be mindful that finding nearby parking may be difficult so please plan ahead. The D-Line goes until 5pm and there are parking garages nearby. Thank you for your flexibility!
Thank You To Our Sponsors: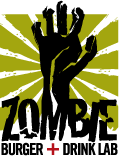 Zombie Burger + Drink Lab
Famous for inventive flavor combos in a "post apocalyptic chic" setting, Zombie Burger serves fast food with a culinary edge. A GOREmet eatery evoking classic roadside burger stands of the 1970s, the restaurant pairs fresh ingredients with expert preparation. Zombie Burger features its own custom three-cut beef burger blend, specially-crafted artisan buns and hand-mixed shakes – and a commitment to producing the best burger anywhere.
300 Grand Ave, Des Moines, IA 50309
(515) 244-9292